Our New Cookbook: Nourishing Meals
Ali Segersten
Jun 25, 2012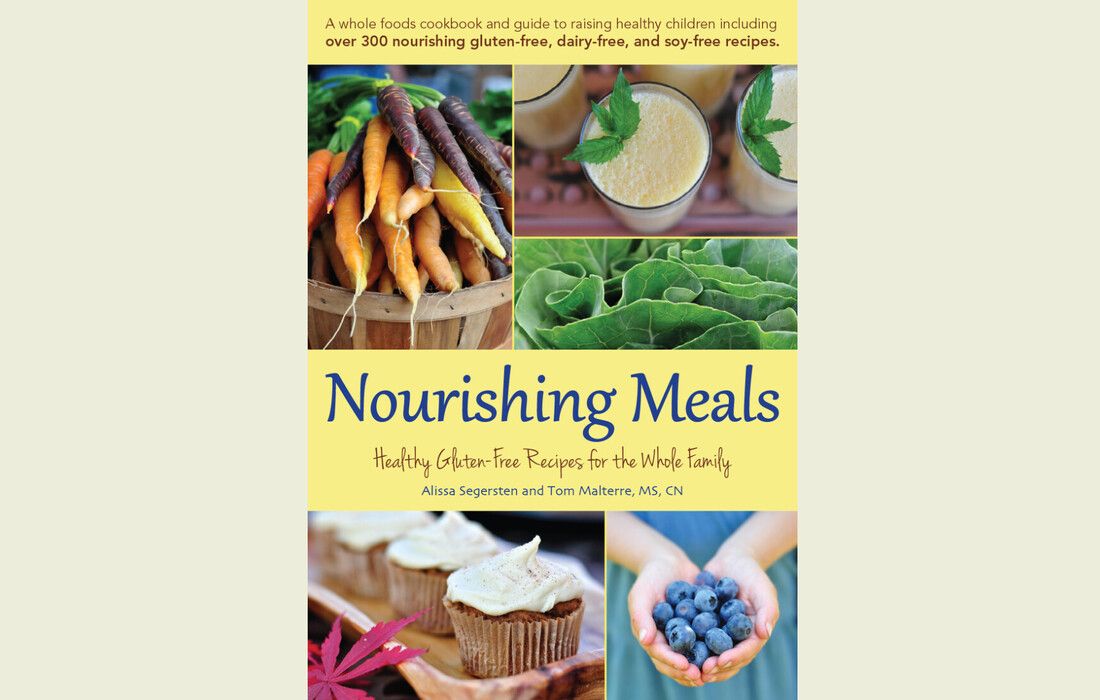 Hello dear readers! We are excited to finally announce the details of our new cookbook, Nourishing Meals: Healthy Gluten-Free Recipes for the Whole Family. It has been years in the making and we much appreciate all of your emails, comments, and suggestions as it helped shape the book. The book is due out at the end of August, 2012. You can now pre-order it from our website and get a FREE e-book containing 16 of our favorite recipes from the book (more details at the bottom of this post).
Right now we are facing an epidemic
of childhood diseases and disorders such as obesity, autism, ADHD, allergies, and diabetes. Many of us are searching for ways to help our children not only survive, but thrive in this world. We dug into the research and found many connections between environmental exposures, dietary habits, and the prevalence of these conditions. In
Nourishing Meals
you will find an overview of this information presented in an easy-to-read format.
The purpose of this book is to help you transition into a gluten-free lifestyle and also provide the tools you need to make informed dietary choices.
Nourishing Meals
contains
over 300 new whole foods recipes
, as well as detailed information about health particularly relating to nutrition for conception, pregnancy, and childhood. You'll learn about the nutrients needed and how to best obtain them, as well as factors that can affect health during these critical stages, such as environmental exposure to chemicals. We also covered many of the causes of food allergies and sensitivities, and what you can do to help prevent them. And because raising a healthy child also involves making sure they 
actually
 eat nourishing food, we provided detailed information on raising healthy eaters from pregnancy onwards (yes, healthy eating habits actually begin in the womb!).
Before each recipe chapter you'll find information pertaining to that chapter and "10 Tips." For example, in the Salads and Vegetables chapter you'll find information on the vital phytochemicals in plants as well as ways to get your children to eat more vegetables. There are then 10 Tips for adding more vegetables to your child's diet. In the Dessert chapter we discussed alternatives to refined sugar and offered 10 Tips for using natural sweeteners. We hope that this will make the book more practical for you.
The book consists of vegan, vegetarian, meat-based, grain-based, grain-free, nut-free, nut-based recipes...pretty much the whole spectrum of eating....
......because there is no one way of eating, nor one perfect diet, for everyone.
Additionally, speckled throughout the recipes, you will find detailed nutrition tips to help you understand exactly why certain foods are beneficial for health!
Here are some of the Recipes:
Apple Cider Baked Beans, Spicy Lentils and Rice in Cabbage Leaves, Raw Burritos with a Spicy Mole Sauce, Grain-Free Chicken Nuggets, Apricot Glazed Chicken, Tandoori Salmon, Sloppy Joes, Grain-Free Zucchini Lasagna with Pine Nut Ricotta, Sweet Potato Falafels, Quinoa Tabouli, Coconut Brown Rice, Spicy Coconut Quinoa Amaranth Casserole, Dairy-Free Fettuccini Alfredo, Chicken and Chard Chili, Hot and Sour Soup, Moroccan Lentil and Cabbage Soup, Cream of Broccoli Soup, Raw Breakfast Tacos, Baby Green Smoothie, Blueberry Cherry Smoothie, Kale and Egg Scramble, Winter Vegetable Hash, Coconut Banana Breakfast Cake, Overnight Quinoa Hot Cakes, Sourdough Buckwheat Crepes, Homemade Gluten-Free Tortillas, Grain-Free Coconut Flour Biscuits, Yeast-Free Seed Bread, Sourdough Teff Bread, Everyday Sandwich Bread, Burger Buns, Kale Apple Walnut Salad, Picnic Coleslaw, Pecan Crusted Chicken and Apple Salad, Smoked Salmon Salad with Honey Mustard Dressing, Kale Chips, Creamed Kale, Rutabaga Fries, Roasted Cauliflower, Berry Parfaits with Orange Cashew Cream, Mint Chocolate Chip Ice Cream, Vegan Maple Pecan Pie, Grain-Free Vegan Chocolate Sunbutter Cookies, Grain-Free Carrot Spice Cupcakes with Coconut Buttercream Frosting, Oat-Free Fruit Crisps, Frozen Banana Coconut Cream Pie, Homemade Coconut Kefir, Cashew Sour Cream, Lacto-Fermented Dilly Radishes, Vanilla Plum Butter, Kale-Herb Seaweed Sprinkle....and so much more!
Here is the Chapter Outline:
Preface
Introduction
Part 1: Foundations of Health
   1. Why Whole Foods?
   2. Why Gluten-Free?
   3. Why the Rise in Food Allergies and Sensitivities?
Part 2: Raising Healthy Children
   4. 7 Ways to Help your Child THRIVE!
   5. Nourishing your Growing Child
   6. Packing a Healthy School Lunch
Part 3: The Recipes
   7. Getting Started
   8. Smoothies
   9. Breakfast
 10. Breads and Muffins
 11. Soups and Stews
 12. Salads and Vegetables
 13. Whole Grains and Noodles
 14. Main Meals
 15. Dressings, Dips, and Sauces
 16. Wraps and Rolls
 17. Snacks and Treats
 18. Desserts
 19. Beverages
 20. Preserving the Harvest
Part 4: Appendix
 21. Resources and Recommendations
 22. References
Index
We bet by now you are really wishing you had a copy in your hands!
You can pre-order the book from our website and when you do we are offering a FREE e-book containing 16 of our favorite recipes, with full color photos of each recipe, so you don't have to wait until August to get a taste of what Nourishing Meals offers (okay, they are all our favorites, but we think you'll like these!). If you don't care for the e-book, you can also pre-order the book from amazon.com.
Here are the recipes you'll get in the e-book:
 1. Blueberry Cherry (Chia) Smoothie (vegan)
 2. Basil Zucchini Frittata
 3. Gluten-Free "Wheat Bread" (vegan)
 4. Yeast-Free, Gluten-free Pita Bread (vegan)
 5. Apple Almond Muffins (vegan)
 6. Creamy Tomato Asparagus Soup (dairy-free)
 7. Spicy Greens Salad with Blueberry Vinaigrette (vegan)
 8. Cucumber Arame Salad (vegan)
 9. Picnic Coleslaw (vegan)
10. Dilled Quinoa and Pea Salad (vegan)
11. Apple Cider Baked Beans (vegan)
12. Grain-Free Chicken Nuggets (egg-free and dairy-free)
13. Mint Chocolate Chip Ice Cream (vegan)
14. Ginger Macadamia Nut Energy Bars (vegan)
15. Apricot Almond Snack Cake (grain-free, dairy-free, no sweeteners)
16. Chili-Garlic Fermented Green Beans (dairy-free - no whey needed)
It is our hope that this book will support your family in health for years to come!
Happy Cooking and Healthy Eating!