Ideas for Gluten-Free Breading
Ali Segersten
Jun 03, 2009
21 comments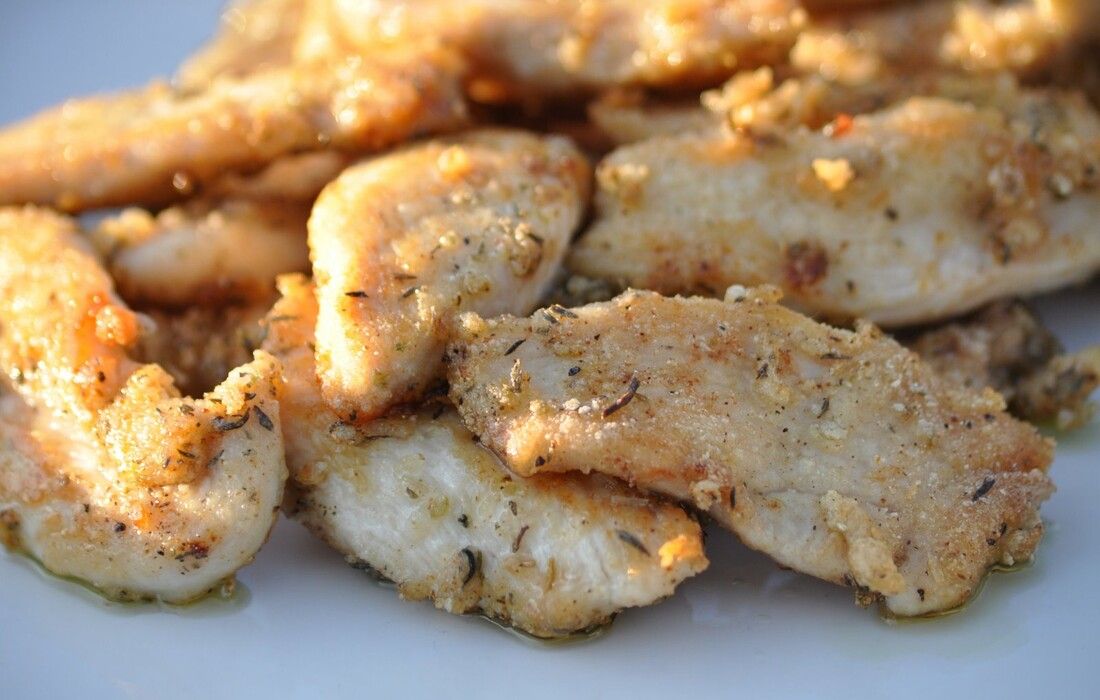 I have been asked a number of times for ideas to bread chicken breasts, fish, and vegetables - gluten-free.
Tonight I thought I would offer some ideas on this topic, some of my own and some gleaned from my fellow foodies.
Tom was in Seattle this evening doing a food demo and talk at the IBS Treatment Center. So what is a mom of four little ones to do when dad is out of town? Make dinner quick and without a fuss. Yesterday I walked to the grocery store with the boys in the baby jogger (which is not all that close to our house) and bought organic fruit, cat food, and a few organic chicken breasts. Okay, I know Michael Pollan does not approve of Rosie's Organic chicken breasts; if you have read the Omnivore's Dilemma you'd know why. But the thought of thawing out one of my local, organic, pastured chickens sounded like too much of a hassle. Then to remove the breasts from the bone, no thank you. I just don't have time.
I cooked a pot of quinoa, sliced up two chicken breasts, and had the girls pick some greens from the garden in no time.
To make it really easy and fast, I breaded the chicken in a non-traditional way: place all of the ingredients over the sliced chicken breasts and toss together! I made sure my chicken breast slices were wet (with water) before adding these ingredients. This helps the flour adhere to the meat.
Here is the combo I used tonight:
sea salt
dried oregano
dried thyme
onion powder
paprika
black pepper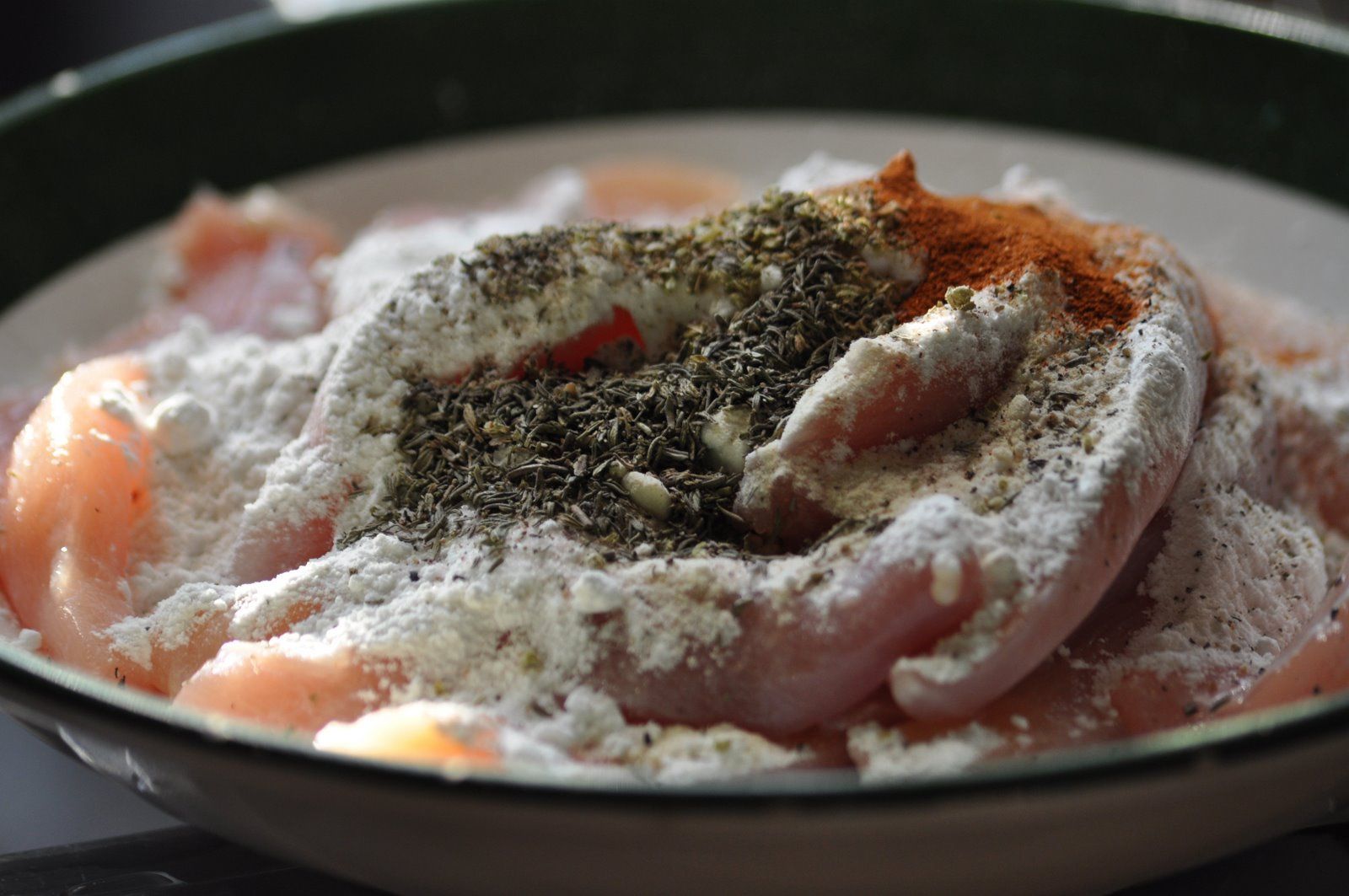 Other Ideas for Gluten-Free Breading:
Polenta (coarsely ground cornmeal) ground in the food processor with your choice of dried herbs and salt
Corn flour
Sweet rice flour
Brown rice flour
Crushed corn chips (or potato chips)
Crushed Brown Rice Crispy Cereal 
Crushed corn flakes
Bread crumbs made from dried out GF bread slices (pulse dried bread slices in a food processor to get crumbs)
Coconut flour 
Shredded coconut
Methods for breading:
There are a few methods for breading. Some chefs like to toss the food (meat, fish, tofu, veggie) in a starch such as arrowroot powder and then do an egg wash, then, finally toss to coat in the breading of choice.
I have done it this way with great results (an egg-free version): Toss your food item in a thick non-dairy milk (or dairy if you prefer), then toss in an egg-free wash made up of a semi-thick mixture of water and arrowroot powder, and then finally toss in the breading of your choice.
To sum it all up:
Choose your breading and pulse it in the food processor with salt, pepper, and your choice of herbs and spices. Set aside in a large bowl.
Dip your food into a dry starch or thick milk.
Then dip your food into an egg wash or arrowroot (egg-free) wash.
Finally, dip your food into the breading of your choice.
If using the stove, have your pan hot and ready (wait to add the oil until you are ready). I use grapeseed oil, avocado oil, or coconut oil for cooking at higher temperatures.
If baking, make sure your oven is preheated and your pan is ready.
Please let us know if you have anything to add to the breading list in the comments section below. I am sure there are more options that I am not thinking of. Thanks and Happy Cooking!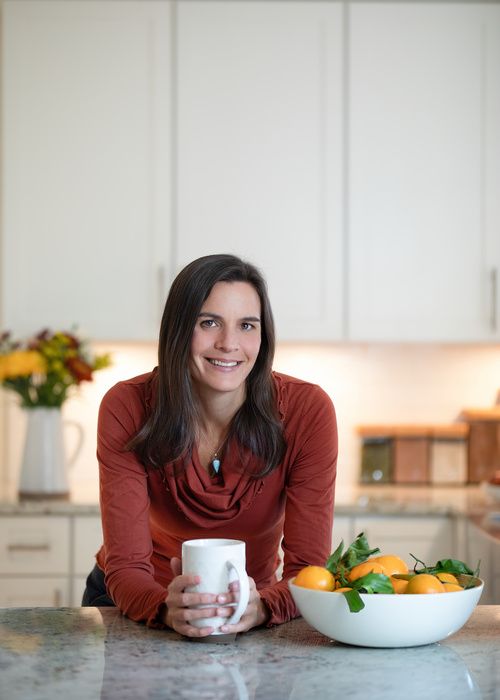 About the Author
Alissa Segersten holds a Bachelor's of Science in Nutrition from Bastyr University and a Master's of Science in Human Nutrition and Functional Medicine from the University of Western States. She is a Functional Nutritionist, the mother of five children, a whole foods cooking instructor, professional recipe developer, and cookbook author. She is passionate about helping others find a diet that will truly nourish them. Alissa is the author of two very popular gluten-free, whole foods cookbooks and guidebooks:
The Whole Life Nutrition Cookbook
and
Nourishing Meals
. She is also the co-author of
The Elimination Diet book
. Alissa is the founder and owner of Nourishing Meals®.
Nourishing Meals Newsletter
Email updates.