Grilled Chicken and Raspberry Salad with Cardamom-Toasted Pumpkin Seeds
Ali Segersten
Jul 03, 2023
6 comments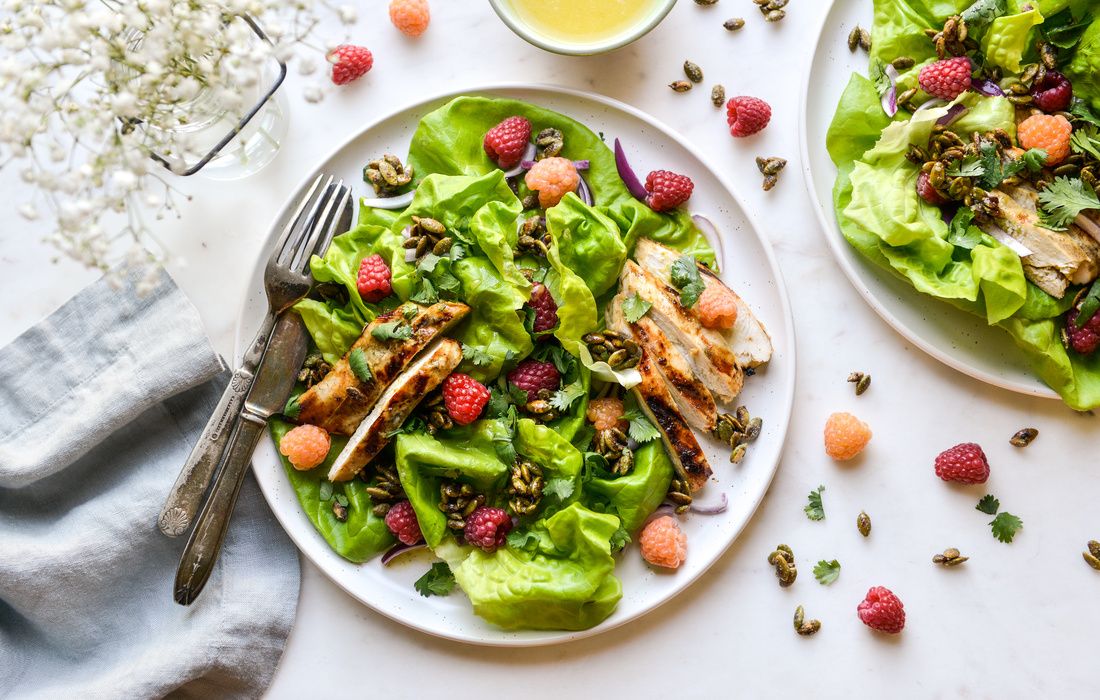 Today I am writing a post to share an incredible recipe with you (one of the most flavorful salad recipes I believe I have created thus far), and open up about some transformations in my life. Some of you have been part of this newsletter since I started it in 2004 and have watched as I have shared photos as our family grew and children went from babies to teenagers! In fact, my oldest daughter is now 21! I started my first business, Whole Life Nutrition, in 2004 with a vision of intersecting recipes, cooking, and the science of how food affects us. In 2008 I began Nourishing Meals® as blog to continue this vision, and in December of 2021, NourishingMeals.com became available as a membership site with over 1500 nourishing recipes, information about different diets, and the ability to find recipes based on specific dietary needs and use these recipes to create meal plans and grocery shopping lists to more easily be able to stay on track with diet and health goals.
I have held onto all the visions for my work and how to better serve people all the while so much was happening behind the scenes. It has been over eight years of intense pain and transformation. I can write this now finally being on the other side of it all and feeling a sense of peace in my life I have not experienced for a very long time. There has been so much confusion, so much so that I fell into a very deep depression many years ago, which I was able to pull myself out of, refocus my life and my goals and continue my work in a different way. Sitting here now, looking back on it all, I can say that it was all likely a karmic journey to develop inner strength, though I definitely didn't think so as it was all happening.
As many of you may know, I have collaborated with my now ex-partner on books and online programs for many years. Consequently, I receive emails, and comments in appointments, all the time thanking us for our work, and I have not quite known how to respond to all of these, so I thought it was time to share about this new phase of my life. In mid-March of 2022, just a few months after launching NourishingMeals.com as a membership site, I became a full-time single mother and have been one ever since. I certainly wasn't planning on a separation at that time in my life, and the circumstances under which it occurred were less than ideal, however, I remember making a very conscious decision that I wasn't going to allow what was happening to bring me down and take away the focus from my work here. The plans to update this site to add more features, and to add more video content and podcasts, have taken much longer than I anticipated, but I keep telling myself that it is all happening in divine right timing. There are finally some very exciting updates coming to the membership site later this summer. I am continuing the work I started two decades ago on my own now and will continue to serve you from a place of authenticity and alignment. Intense pain and suffering can bring us to new levels of existence, whether this is due to chronic health issues or repeated traumas. If we allow ourselves to feel it all and then let go and allow the suffering to transform us, we can rise from the ashes of pain and create ourselves anew. Whatever you are going through, keep holding a vision of yourself of where you want to be on all levels as a guidepost, and never let that go. This will be your guiding light in times of darkness. You can heal. You can make it through the most difficult personal experiences or life hardships. Everything in your life can line up to help you…..when you choose to work toward the vision of yourself.
Going through so many years of emotional pain, I have a much deeper understanding now of how trauma can affect digestion, hormonal balance, and blood sugar regulation. It's easier to recognize these patterns now in those I serve through my work. If you are in a constant state of stress and emotional distress, then how does this affect digestion? Digestive functioning happens in a parasympathetic state, which can be difficult when you are experiencing constant stress and trauma. Without proper digestive functioning (stomach acid, motility, release of enzymes), nutrient absorption can be diminished, bacterial or yeast overgrowth can begin to occur, gut damage can ensue, the immune system can begin reacting to different foods (food sensitivities), and the body can end up being in a state of chronic inflammation due to reactions to foods and bacterial components. Detoxification processes in the body also function best in a parasympathetic state. As the level of environmental toxicants increases in our world, it is becoming more and more important to have a highly functioning detoxification system. Did you know that stress can greatly impede detoxification processes in our bodies? The increasing burden of environmental toxicants in the body can greatly affect mitochondrial function and energy production, and can also affect gut microbes and contribute to intestinal permeability, and so much more. If you are working to overcome a chronic health issue, keep looking "upstream" and address these. Stress and emotional traumas may be playing a large role in imbalances in your body. They are as important to address as nutrient deficiencies, food sensitivities, gut imbalances, and toxic exposures. 
This extraordinary salad recipe came to me last week in a flash of inspiration. The flavors are exquisitely balanced, and the ingredients are deeply nourishing. I added it to our membership section and wanted to also share it with you in a blog post as a reminder to nourish yourself in times of difficulty and pain. Coming back to ourselves and healing also means nourishing ourselves on all levels. There were times that I found it difficult to eat because my stress levels were so high. Eating a well-balanced meal, full of protein and flavor, would bring me back to center. Keep showing up for yourself with restorative practices such as cooking a nourishing meal, walking or exercise in nature, grounding yourself on the earth (i.e., collapsing in your backyard and letting the earth ground you back into reality), gardening, artwork, deep breathing, and listening to binaural beats. I know there are a great many of you working on healing chronic health conditions right now, and I want to remind you that as long as you are in a supportive, healthy environment, and you continue to hold the vision of where you want to be, you can heal. Healing isn't a quick fix; it is a gradual process of making small changes and continuing this process over time. Stay focused on the process, and the rest begins to fall into place.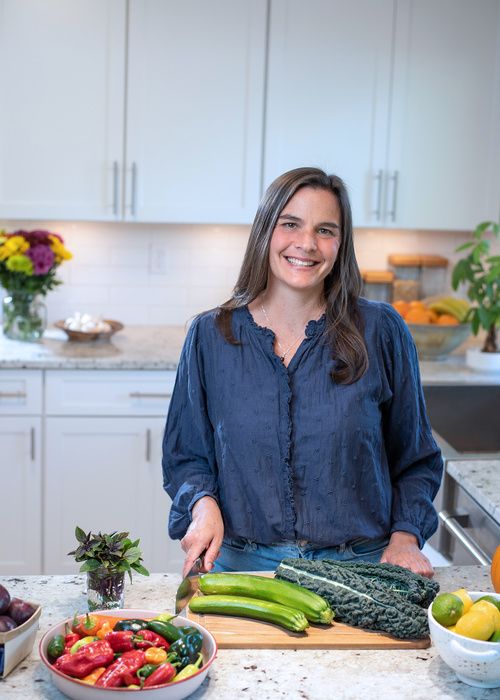 About the Author
Alissa Segersten holds a Bachelor's of Science in Nutrition from Bastyr University and a Master's of Science in Human Nutrition and Functional Medicine from the University of Western States. She is a Functional Nutritionist, the mother of five children, a whole foods cooking instructor, professional recipe developer, and cookbook author. She is passionate about helping others find a diet that will truly nourish them. Alissa is the author of two very popular gluten-free, whole foods cookbooks and guidebooks:
The Whole Life Nutrition Cookbook
and
Nourishing Meals
. She is also the co-author of
The Elimination Diet book
. Alissa is the founder and owner of Nourishing Meals®.
Nourishing Meals Newsletter
Email updates.