Grilled Thai Red Curry Chicken Salad
Ali Segersten
May 30, 2022
Full body health begins with the little things we do every day. That's right....every day! Did you know that incorporating fresh herbs and spices into your meals adds thousands of flavonoid compounds that benefit your health and the health of your microbiome? Flavonoids from plant foods have been found to possess anti-oxidant and anti-inflammatory properties, are protective against neuroinflammation and neurodegeneration, and help prevent a wide range of cancers. Fresh basil, cilantro, mint, parsley, rosemary, thyme garlic, turmeric, and ginger are herbs and spices that can easily be incorporated into your daily meals. You've probably noticed that I add quite a bit of fresh herbs to my recipes! Not only do these herbs brighten the flavors of the final dish, but they add an abundance of phytonutrients that reduce inflammation and prevent disease! 
This Thai-style grilled chicken salad contains ingredients rich in anti-inflammatory flavonoids such as fresh basil, cilantro, mint, red cabbage, peppers, cucumbers, peanut butter (organic), and lime juice! The chicken can be cooked on a grill or on your stove in a cast iron grill pan. Make a big batch of the salad, chicken, and dressing and store each in separate containers in your fridge for quick, nutrient-dense lunches throughout the week! 
If you are on a meat-free diet, you can use the marinade for a fillet of salmon or halibut, then drain off the marinade and bake the fish in the oven until it is cooked through and flakes easily. If you are on a peanut-free diet, use roasted sunflower seed butter or almond butter in the dressing instead.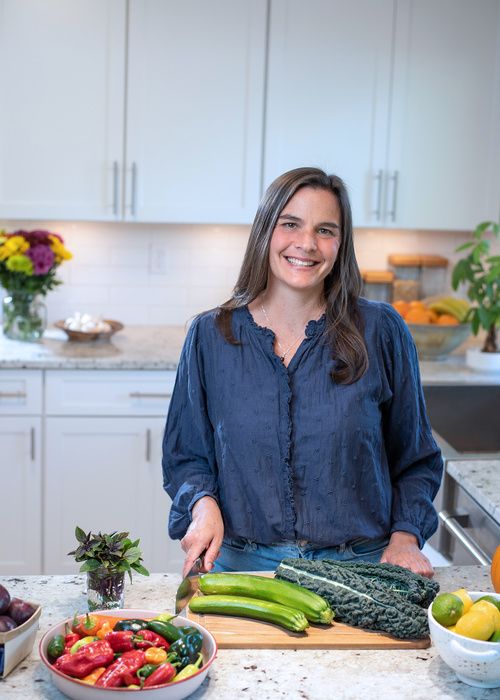 About the Author
Alissa Segersten holds a Bachelor's of Science in Nutrition from Bastyr University and a Master's of Science in Human Nutrition and Functional Medicine from the University of Western States. She is a Functional Nutritionist, the mother of five children, a whole foods cooking instructor, professional recipe developer, and cookbook author. She is passionate about helping others find a diet that will truly nourish them. Alissa is the author of two very popular gluten-free, whole foods cookbooks and guidebooks:
The Whole Life Nutrition Cookbook
and
Nourishing Meals
. She is also the co-author of
The Elimination Diet book
. Alissa is the founder and owner of Nourishing Meals®.
Nourishing Meals Newsletter
Email updates.