Simple Baked Fish and Local Veggies
Ali Segersten
May 09, 2009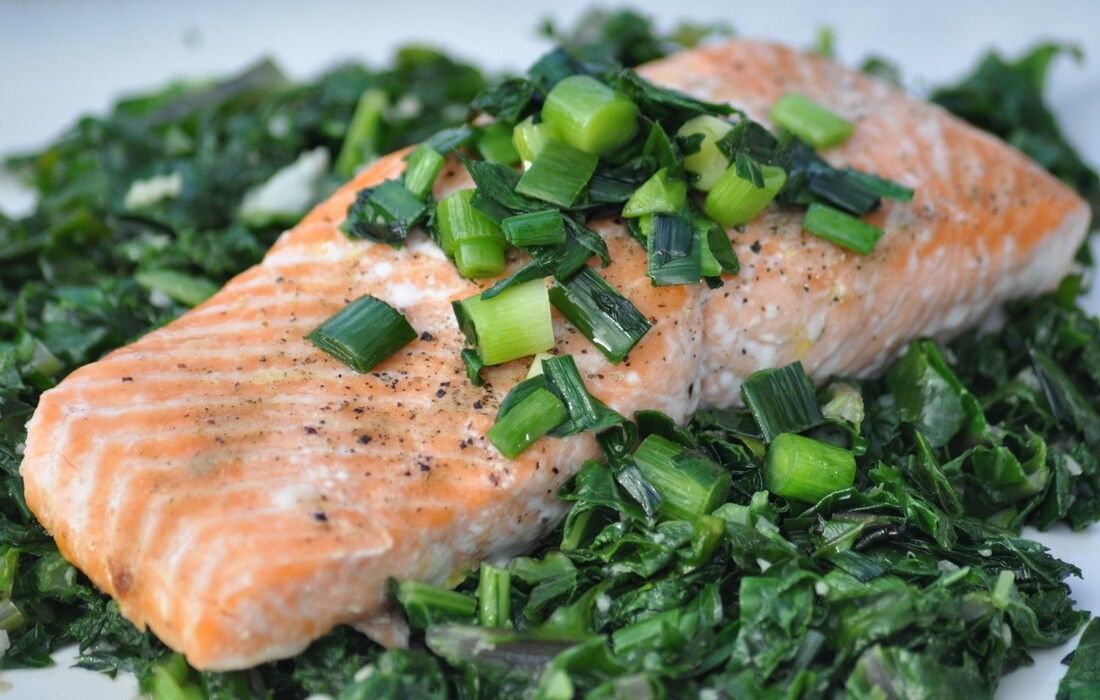 The phrase "Be a Yocal, Buy Local" still rings in my head from my Bozeman, Montana days. Yes I used to live there and loved it! The co-op there had stickers with the above phrase that I had plastered on my Nalgene water bottle. (No, I do not use a Nalgene bottle anymore....stainless steel for us now!).
Greens, greens glorious greens are the local veggies that are available at our Farmer's Market right now. Last Saturday we bought loads of fresh kale, arugula, mixed baby greens, sorrel, baby bok choy, napa cabbage, green onions, and baby garlic.
I thought I would offer you a few ideas on how to incorporate these highly nutritious, local foods into your meals.
Pictured above is a simple baked wild king salmon fillet topped with sautéed baby garlic. I placed the fillet over a bed of lightly sautéed, tender kale.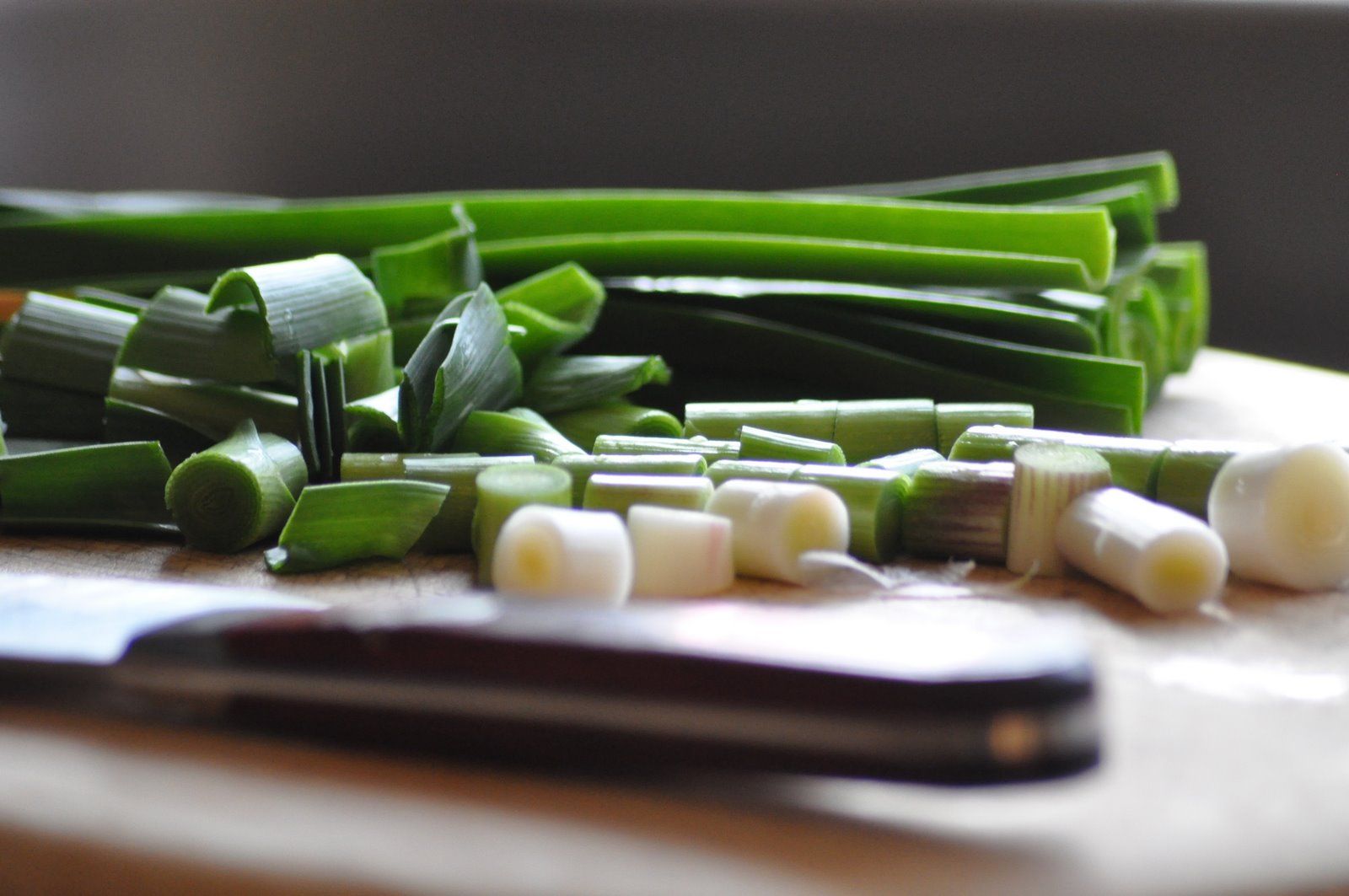 What is Baby Garlic? 
Baby garlic, or green garlic, is the tender green sprout of the garlic plant and is only available during spring. It is much milder than the garlic clove that lies below. You can use them to replace green onions in most recipes. I simply sautéed them in a little extra virgin olive oil with a few pinches of pink Himalayan sea salt. Garlic scapes, on the other hand, are the flowering, curly, central stalk of the garlic plant. They curl upward as they grow, then grow little seed-like bulbs, and are then snipped off so the plant puts energy into the bulb instead of the bud. Garlic scapes are usually available in mid-June and can be used much like baby garlic.
How to Sauté Kale: 
Rinse the kale leaves but do not dry them off. Finely chop them with a sharp knife. Heat a large pot over medium heat, add a few tablespoons of extra virgin olive oil and a few dashes of sea salt to the bottom of the pot. Add your wet greens. Sauté for a few minutes (tender spring greens don't take long), add as many cloves of crushed garlic as you can tolerate and continue to sauté until the kale is tender and wilted but still bright green. Add a little more sea salt to taste.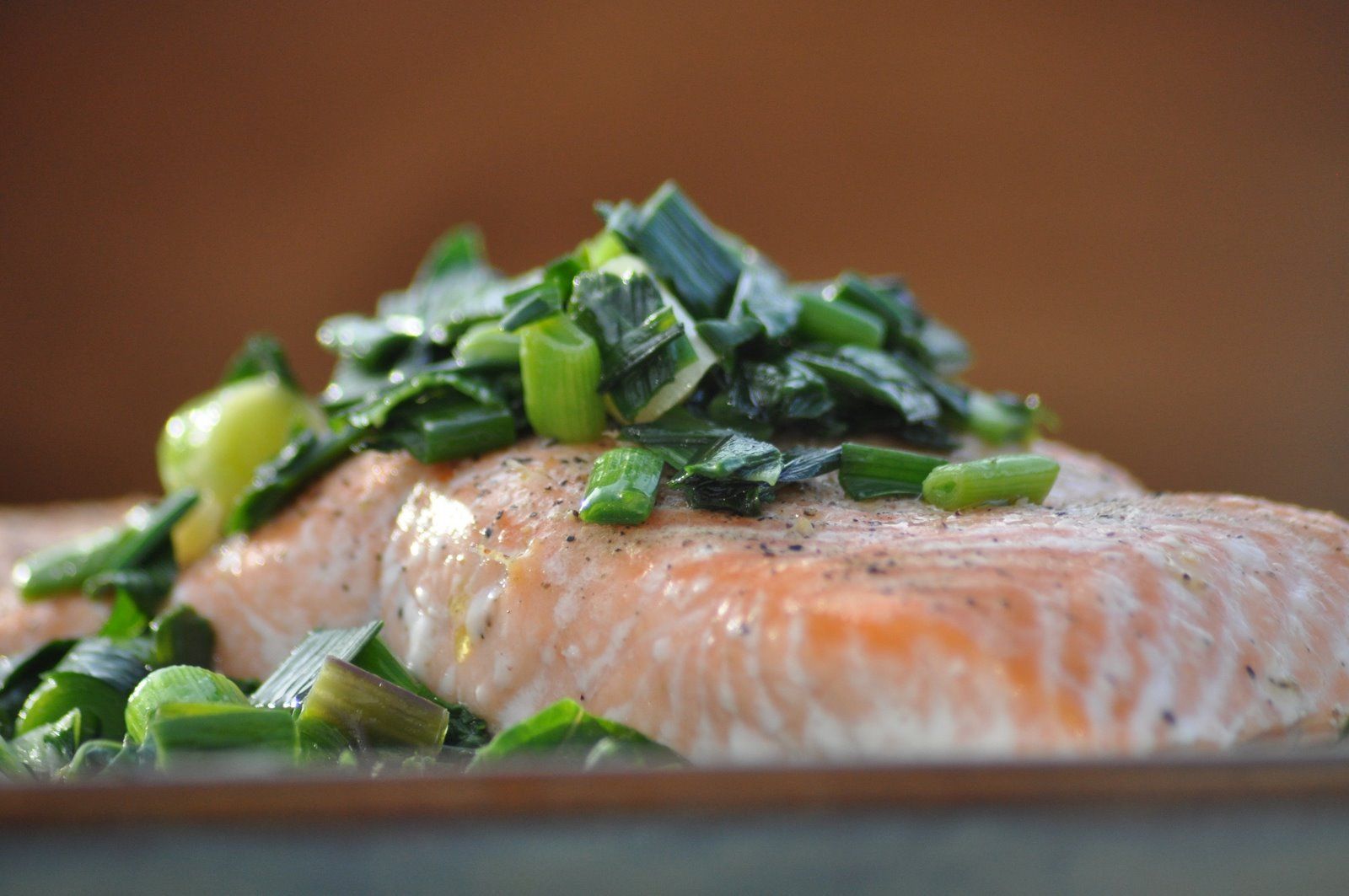 How to Bake Fish: 
Preheat oven to 400 degrees. Rinse your fish fillet and place into a baking dish (I use an 8 x 8 glass dish). Generously sprinkle the top with Herbamare or sea salt and freshly ground black pepper. Drizzle the top with olive oil. You can add other dried herbs if you wish, but with the sautéed garlic scapes for a topping, salt and pepper are all you really need.
Place fish into your preheated oven and bake for 10 minutes per inch of thickness. I actually never calculate this or even watch the time, I know when the fish is done by the smells in my kitchen. If you are not sure if it is cooked all the way through, simply remove the pan from the oven and pull away some of the flesh with a fork in the thickest part of the fillet. If it is very pink it still needs some time, if it is opaque pink, then it is done. Remember, fish still cooks after you remove it from the oven, so be careful not to overcook.
Sorrel Millet Burgers: 
We had a pot of leftover millet on the stove so I decided to make millet patties using the sorrel (a great lemony citrus alternative) and green onions from the market. I have a similar recipe in my Whole Life Nutrition Cookbook. 
Using a food processor fitted with the "s" blade process 2 carrots, a few large handfuls of sorrel, and a few green onions until finely ground. Add a few pinches of sea salt and a few cups of cooked millet, pulse again until the millet and veggies are incorporated. Form into patties and fry in a little olive oil in a heated heavy-bottomed skillet (cast iron works best). My children LOVE this recipe! 
I have many more recipes to share. Please let me know what interests you the most so I can post accordingly. The other night a created a fantastic grain-free, vegan brownie recipe. I also have simple main meal ideas like a Chipotle Black Bean and Yam soup. I could post my Rhubarb Muffin recipe? And, of course, I have a never ending array of veggie recipes awaiting to tickle your taste buds!
Happy Cooking!