Packing Healthy Food for Air Travel
Ali Segersten
Jul 25, 2012
22 comments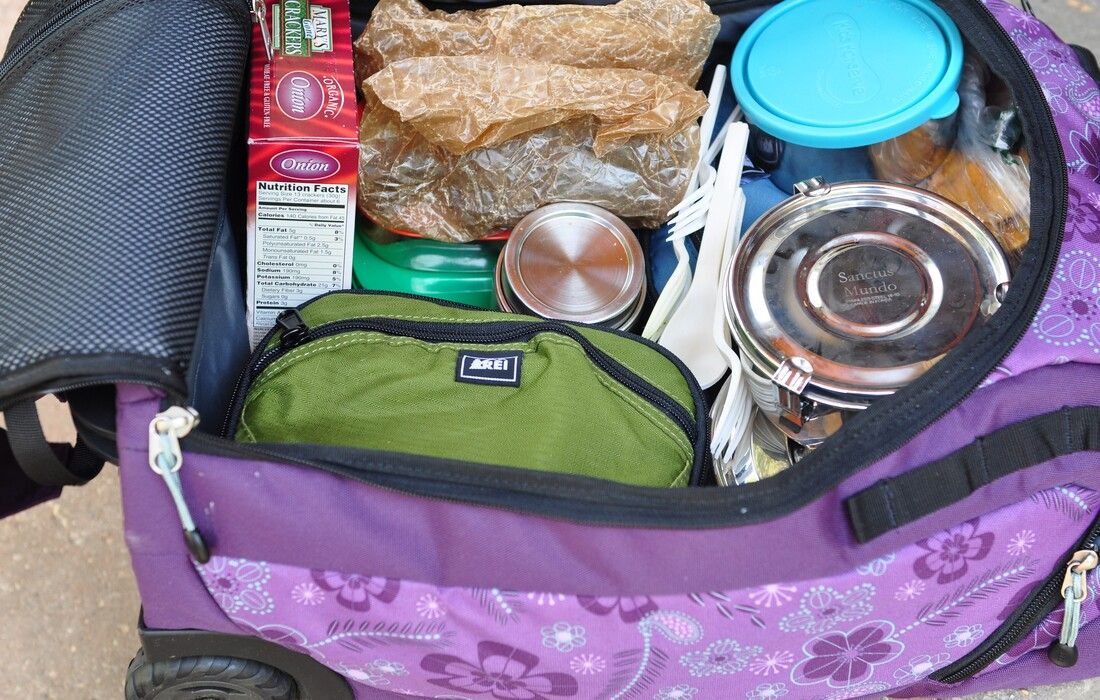 Trying to pack up and get out the door on time to catch an airplane can be difficult as it is, but add in packing all of your own food for the day, and you have what sounds like a bit of work. I've been packing my own food for airplane trips since I was twenty years old and I can tell you, that with a little planning, it can be very simple. There are some restrictions of what is allowed through security and what is not. I hope this post will inspire you to ditch the airplane/airport food in favor of healthier options brought from home.
This past winter I took all five children on a trip to visit my family in the midwest. And I did it again this past June, though Tom met us out there part way through our trip and flew back home with us....how nice it was to have another adult helping out! On our trip in February I had everything planned, organized, and packed the day before we left, including most of our food. Getting out the door went very smoothly. On our last trip, coming back home from my parents' house, I had nothing planned which caused quite a bit of chaos right before we left for the airport!
Packing Food for Air Travel:
Plan: Make a list of what you will bring on the plane at least 4 days before the trip. This way you can go to the store and pick up any necessary ingredients.
Prep: Make any food the day before your trip that can be prepped early. Cut up carrots, celery, or cucumbers. Make a whole grain salad. Bake a loaf of bread for sandwiches. Pop some popcorn. The morning before you leave, cut up apples, make sandwiches, and do whatever else needs to be prepped the day of the trip.
Pack: Use small insulated lunch packs with an inserted frozen pack to keep things that can spoil easily cool. We like to dedicate one small roller bag for food. One of the kids is always responsible for it. This keeps everything in one place so if we want to have a picnic in the airport we can. Also, everyone knows where to go if they are hungry on a flight.
Security Regulations:
Liquids: Of course you all know that you need to buy water once you get through security, but if you have a baby or toddler you can take water or formula in a bottle through security. Breast milk is also permitted through security, even if you are not traveling with your infant.
Food: Did you know almond butter and hummus are considered creams/lotions and have to be in 3-ounce containers or less? But if six ounces of almond butter is spread onto four sandwiches it is ok! Here is the other gray area with "creamy" foods: If you are traveling with young children it doesn't matter if you bring a 12-ounce container of hummus through security! If you don't have very young children then play it safe and make sure these types of foods are packed in 3-ounce sized containers or less.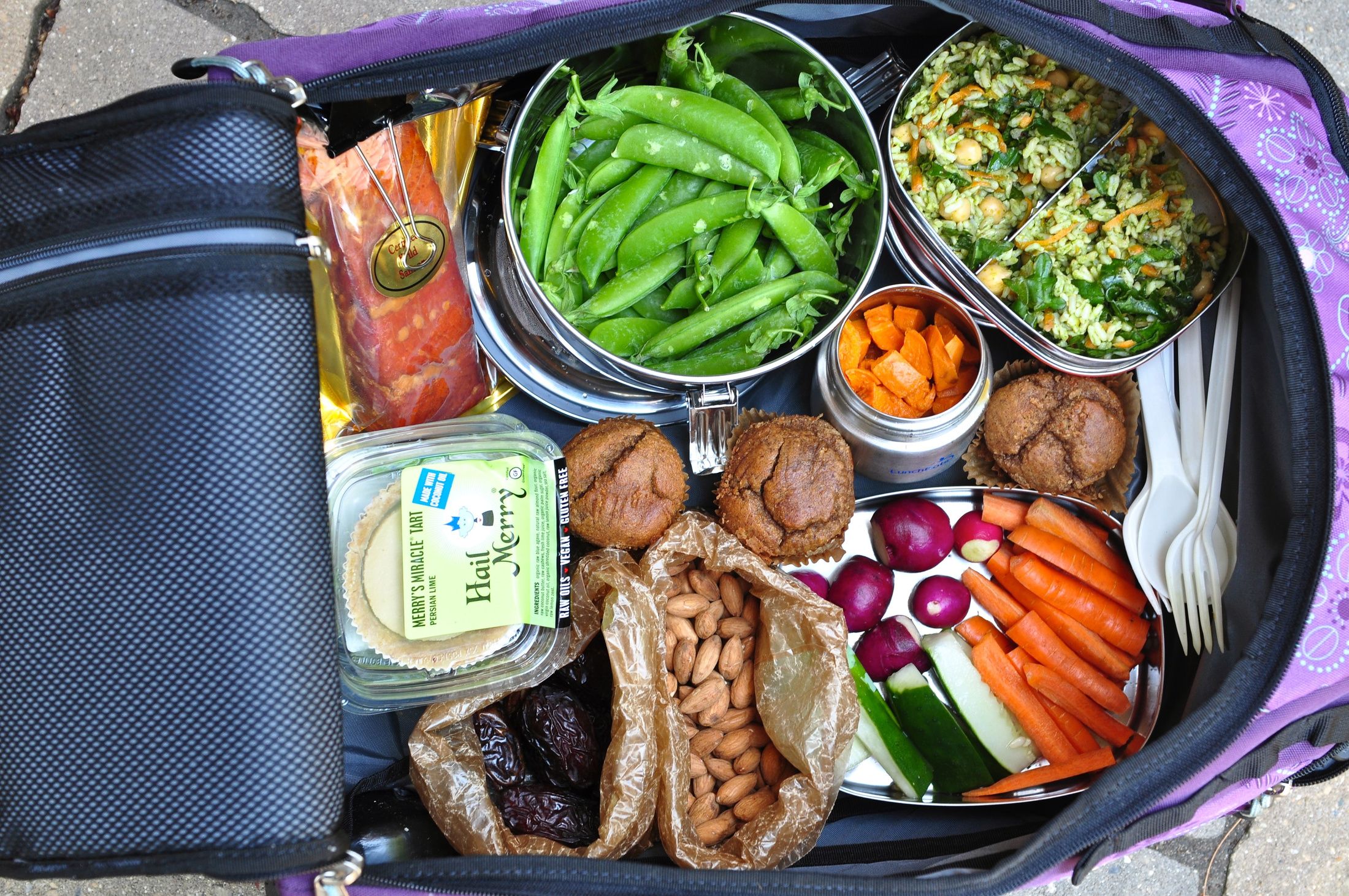 Healthy Food for Air Travel:
sugar snap peas
cherries
apple slices with lime juice squeezed on them to prevent browning
radishes
cucumber slices
carrot & celery sticks
sandwiches (turkey & lettuce, or almond butter & jam)
smoked salmon
homemade popcorn popped in coconut oil (packed in a paper bag)
fruit leathers
dried mango
crackers (we like Mary's Gone Crackers)
cubed, steamed yams for baby
soaked and dehydrated almonds
dates (1 for each person as a sweet treat)
Traveling with Children:
Don't bring chocolate or sugary foods ~ the goal is a happy, calm child, right? 
Make sure your child has had enough sleep to be able to handle a stressful day of travel and time zone changes.
We have each child pack a backpack of things do do on the plane. They bring activity books and crayons, books to read or be read to, wool yarn to finger knit with, and a movie for the computer.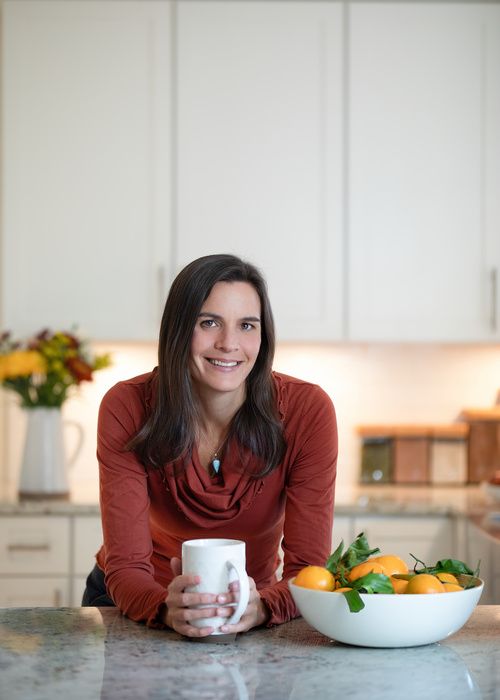 About the Author
Alissa Segersten holds a Bachelor's of Science in Nutrition from Bastyr University and a Master's of Science in Human Nutrition and Functional Medicine from the University of Western States. She is a Functional Nutritionist, the mother of five children, a whole foods cooking instructor, professional recipe developer, and cookbook author. She is passionate about helping others find a diet that will truly nourish them. Alissa is the author of two very popular gluten-free, whole foods cookbooks and guidebooks:
The Whole Life Nutrition Cookbook
and
Nourishing Meals
. She is also the co-author of
The Elimination Diet book
. Alissa is the founder and owner of Nourishing Meals®.
Nourishing Meals Newsletter
Email updates.