Butternut Squash, Kale, & White Bean Soup
Ali Segersten
Oct 04, 2012
11 comments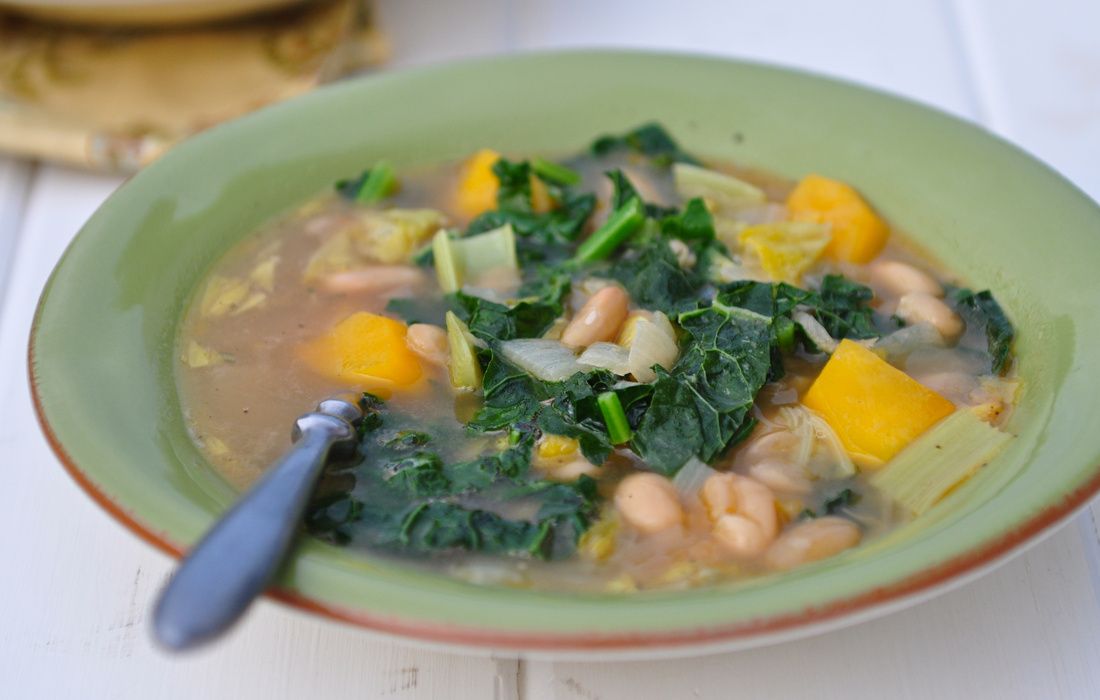 There is nothing more nourishing than a bowl of warm vegetable bean soup on a chilly autumn evening! This simple soup can be made in about 30 minutes, perfect if you are crunched for time on a busy weeknight. I like to keep small containers of cooked beans in my freezer so I can pull them out and whip something up in a hurry! You could of course use canned beans, and if you do, the best brand to buy is Eden Organic. They use BPA-free cans and also cook kombu seaweed in with their beans, which helps to make them more digestible.
If you are not yet in the habit of cooking beans from scratch, here is what I do: after the kids go to bed I will sort through a couple of cups of dry beans (usually about 4 cups) and pick out any rocks or clumps of dirt, then rinse the beans in a colander. Then I place them into a large glass bowl and cover them with a few inches of warm water. Be sure to add enough water! Whenever I ask Tom to soak beans or nuts, he never adds enough water and in the morning they will have all expanded and be exposed to air. He's learning, slowly.
If your soaking beans need more water, just add more. Around 3pm the next day I will drain off all of the water, rinse the beans, and place them into an 8-quart stockpot. Then I cover them with water, add a small strip of kombu, and bring to a boil. Then cover the pot, reduce the heat to a simmer, and cook until tender. Most beans take around 1 hour. Now you have cooked beans to use in soups, stews, enchiladas, and coffee cakes! Let the beans cool, then place them into jars, cover with bean cooking liquid, and freeze or refrigerate.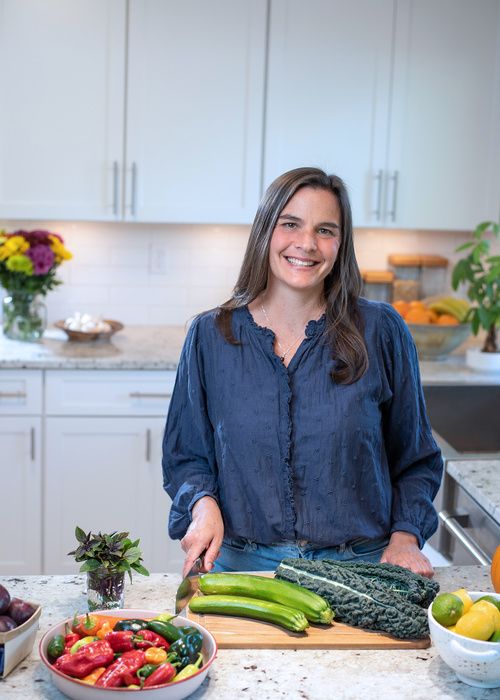 About the Author
Alissa Segersten holds a Bachelor's of Science in Nutrition from Bastyr University and a Master's of Science in Human Nutrition and Functional Medicine from the University of Western States. She is a Functional Nutritionist, the mother of five children, a whole foods cooking instructor, professional recipe developer, and cookbook author. She is passionate about helping others find a diet that will truly nourish them. Alissa is the author of two very popular gluten-free, whole foods cookbooks and guidebooks:
The Whole Life Nutrition Cookbook
and
Nourishing Meals
. She is also the co-author of
The Elimination Diet book
. Alissa is the founder and owner of Nourishing Meals®.
Nourishing Meals Newsletter
Email updates.