What a gorgeous day here in Bellingham! I think it hit 75 degrees, at least on our thermometer. It was a wonderful way to celebrate May Day. Our 4-year old daughter, Gracie, danced around the May Pole at her preschool celebration and made flower garlands. I made 5 dozen Almond Thumbprint Cookies for the celebration, nearly half of which Tom burned because I left him in charge, its all good though, there was still plenty to go around.
Today I wanted to share an easy veggie recipe with you that can last the whole week. It is a recipe that I made in our cooking class last Tuesday night entitled "Eat Your Veggies."
Springtime is a time of detoxification, renewal, and cleansing. Cabbage is one of the best foods for this. It contains sulfur compounds that the liver needs to detoxify harmful substances. These sulfur compounds signal genes to produce more enzymes involved in detoxification and encourage the formation of proteins that assist in the manufacturing and preservation of glutathione, the primary antioxidant found in the human body.
Many of you probably have chives growing somewhere in your yard or garden. Note, if you don't, they are one of the easiest plants to grow. I have a small herb garden right out my front door, a perfect place to quickly gather herbs for cooking. The large amount of chives in this recipe adds a certain pungency to the already potent cabbage. The flavor is rather energizing; perfect for this quick, light energy of spring. And perfect for spring picnics in the park with family and friends.
Here is my trick to making this salad last the whole week. Don't follow the recipe!
OK, I will elaborate. Make a triple batch of the dressing and store it in a tightly sealed glass jar in the fridge. Use a large head of purple and green cabbage and as many carrots and chives as you see fit. Chop almonds and store them in a separate jar. Follow the directions below for processing the cabbage and carrots. Store the salad, undressed, in two large bowls or sealed containers in the fridge. When ready to serve, remove what you will use for that meal and drizzle some dressing over it. Sprinkle with chopped almonds. Serve. Note: the salad is best after about 20 minutes of being dressed.
For more veggie and salad recipes you can view the Salad Category or Vegetable Dishes Category.
Enjoy!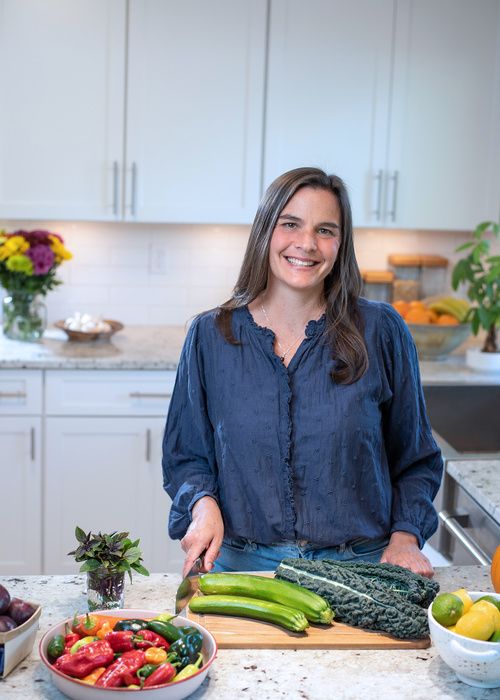 About the Author
Alissa Segersten holds a Bachelor's of Science in Nutrition from Bastyr University and a Master's of Science in Human Nutrition and Functional Medicine from the University of Western States. She is a Functional Nutritionist, the mother of five children, a whole foods cooking instructor, professional recipe developer, and cookbook author. She is passionate about helping others find a diet that will truly nourish them. Alissa is the author of two very popular gluten-free, whole foods cookbooks and guidebooks:
The Whole Life Nutrition Cookbook
and
Nourishing Meals
. She is also the co-author of
The Elimination Diet book
.
Nourishing Meals Newsletter
Email updates.