How to Make Gluten-Free Gravy
Ali Segersten
Nov 24, 2010
16 comments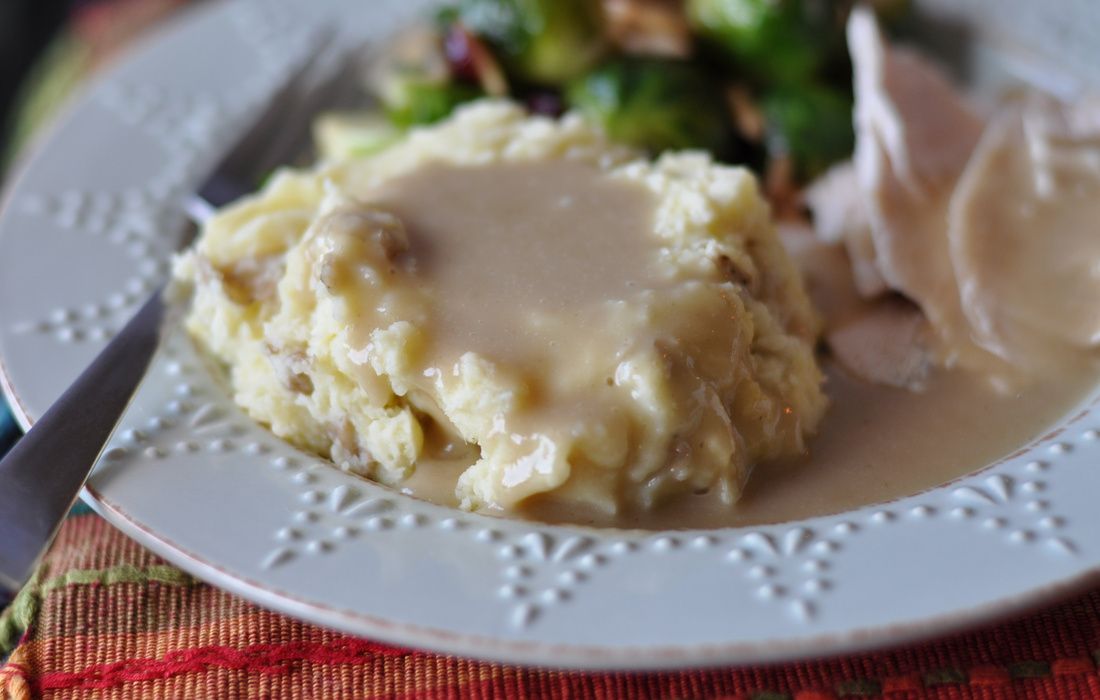 Making gluten-free gravy is so simple. No need to add butter and make a roux. I have a few tips for creating rich, flavorful pan juices from cooking a bird, whether it be a turkey or chicken. These photos use a local, pastured, organic chicken, but I cook a whole turkey the same way using a larger stainless steel roasting pan. And if you want nothing to do with cooking a turkey this year then check out my recipe for this vegetarian main dish: Butternut Squash Casserole with Sage and Shallots. 
Use whatever fresh savory herbs you have on hand, such as thyme, rosemary, sage, and marjoram. Dried herbs work as well. These are key to creating a rich, flavorful gluten-free gravy!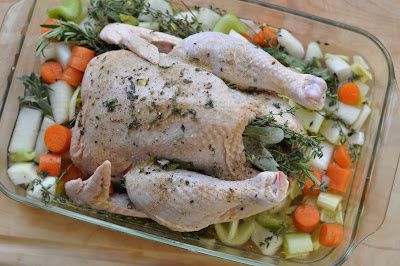 Create Rich Pan Juices:
To create rich pan juices, place your rinsed bird in a glass baking pan (9x13-inch for chicken or 10x14-inch for turkey). Chop up a large onion and a few stalks of celery. Toss them with a few teaspoons of Herbamare. Fill the cavity of the chicken with the celery and onions. If you are cooking a turkey, you can use your favorite gluten-free stuffing recipe. I sometimes use my Wild Rice Stuffing recipe.
Place the remainder of the celery and onions around the bird in the bottom of the pan. Add plenty of sprigs of fresh herbs, such as rosemary, thyme, sage, and marjoram. Add a few chopped carrots and a whole head of garlic, cut in half cross-wise. 
If you are cooking a turkey, I also like to add chunks of tart apples, such as Granny smith, under the turkey on the bottom of the pan. You can also layer fresh herbs under the turkey as well. Then, drizzle olive oil on top of the bird and generously season with Herbamare and black pepper. Sprinkle a few herbs on top if you wish. Use my Slow-Roasted Whole Turkey recipe or Herb Roasted Turkey in Parchment recipe for correct temperature and timing. 
Fill the bottom of the pan with about 2 cups of water for a chicken and around 3 to 4 cups for a turkey. This will keep the bird moist during the long cooking times.
When you are ready to cook the chicken or turkey, turn the oven to 450 degrees. Place the bird in the oven for 15 to 20 minutes at this temperature to seal in the juices. Then reduce the heat to 325 degrees F and cook until done (or until meat thermometer reads about 165 degrees F); about 2 hours for a 4 to 5 pound chicken, or about 15 minutes per pound for a whole turkey. Baste the turkey or chicken a few times throughout the cooking process.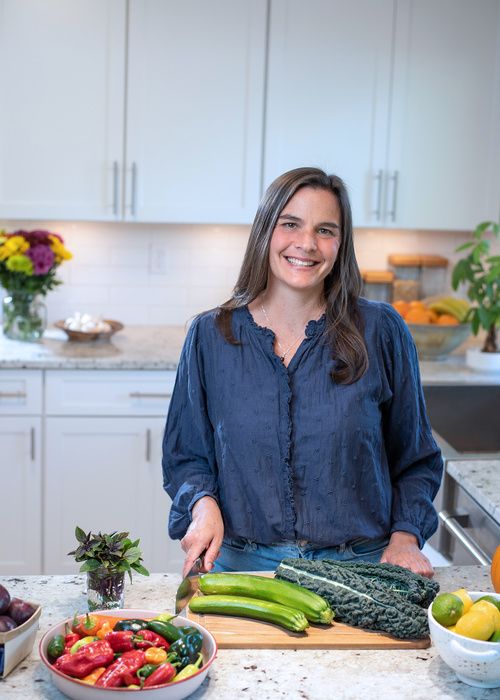 About the Author
Alissa Segersten holds a Bachelor's of Science in Nutrition from Bastyr University and a Master's of Science in Human Nutrition and Functional Medicine from the University of Western States. She is a Functional Nutritionist, the mother of five children, a whole foods cooking instructor, professional recipe developer, and cookbook author. She is passionate about helping others find a diet that will truly nourish them. Alissa is the author of two very popular gluten-free, whole foods cookbooks and guidebooks:
The Whole Life Nutrition Cookbook
and
Nourishing Meals
. She is also the co-author of
The Elimination Diet book
. Alissa is the founder and owner of Nourishing Meals®.
Nourishing Meals Newsletter
Email updates.