Garlicky Green Sauce and Green Smothies
Ali Segersten
Nov 15, 2008
13 comments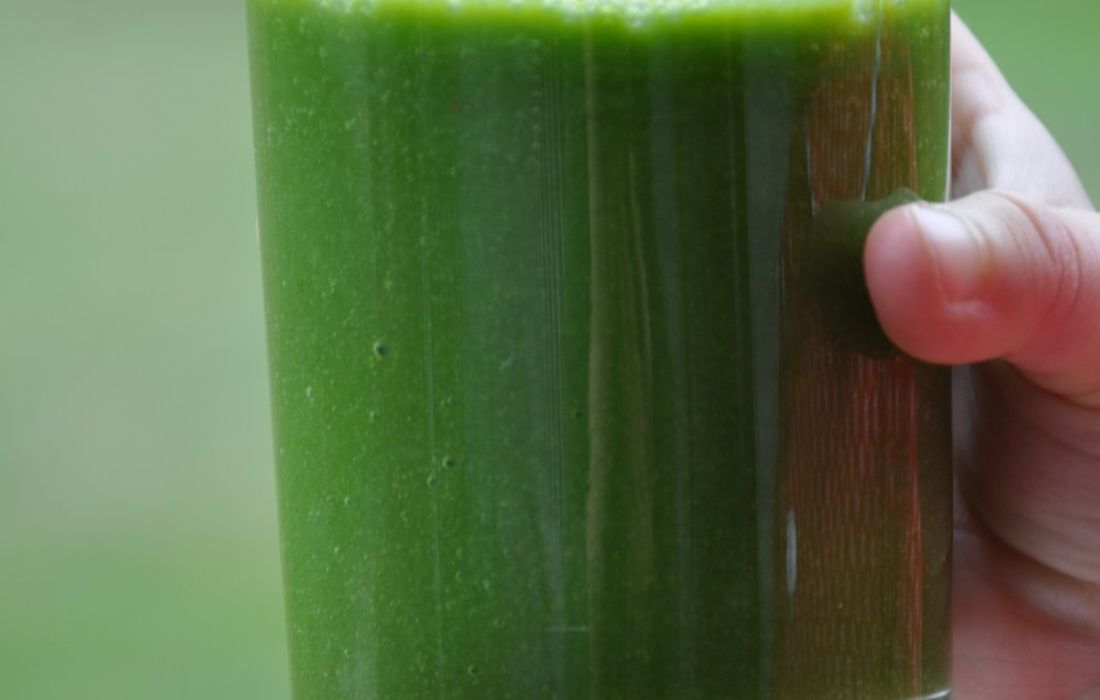 It's Friday night and Tom is dutifully doing all the dishes so I can write. Yes it's late, but our twins, now nearly 11 months old, have awoken twice already this evening. They are great at not sleeping, but somehow we survive on what little sleep we manage to get. I am hoping that by the time they turn one we will have them sleeping at least a five hour stretch at night.
Stammering down the stairs this morning in a half asleep state all I could think about was water and a tall glass of green smoothie. You see, I nurse those babies all night long and am dehydrated by the morning. Never mind that I have drunk all the water I had next to my bed during the night, I am thirsty in the morning.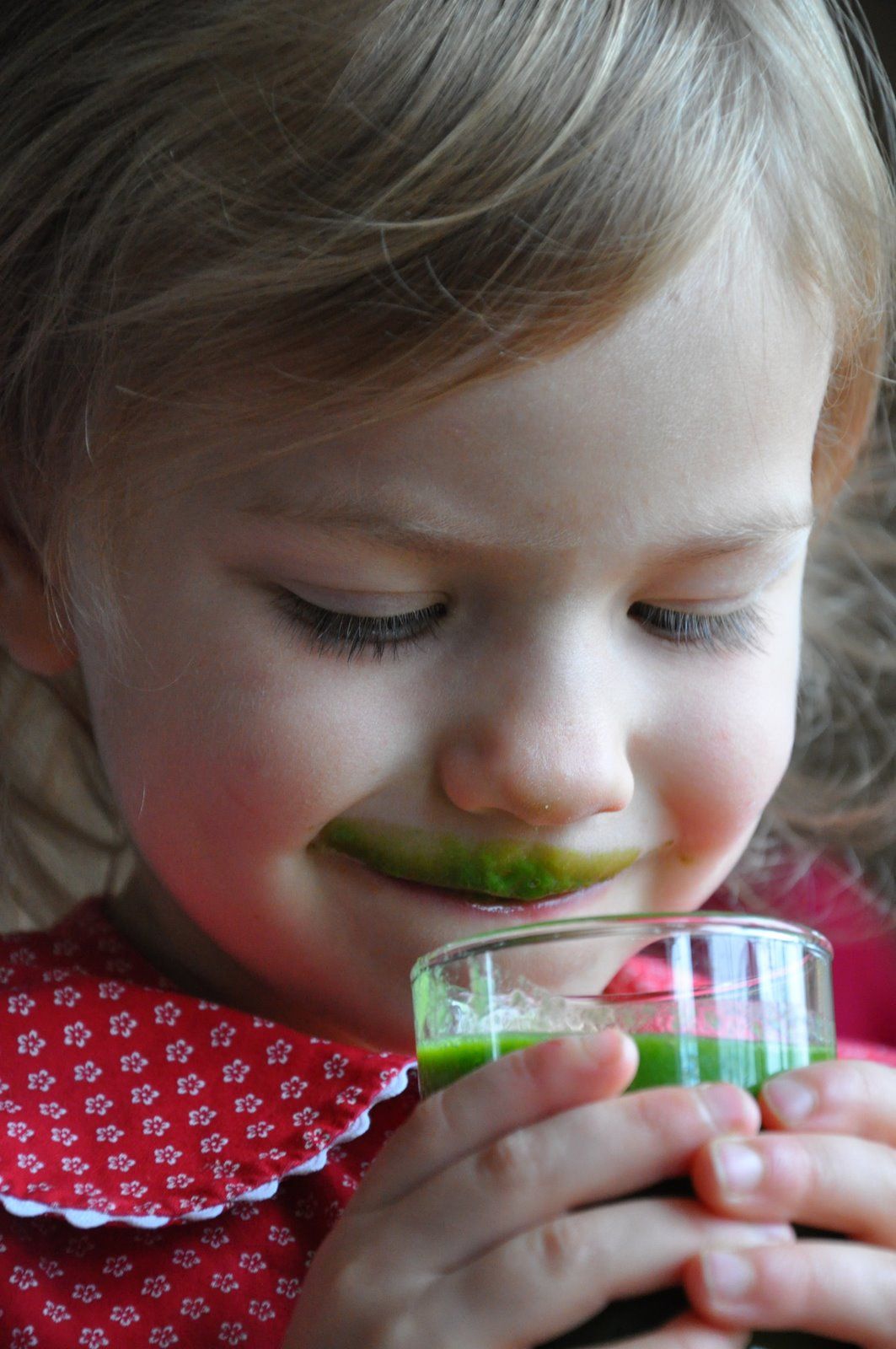 We make a green smoothie nearly every morning with what we have available. This morning it was a tropical-tasting smoothie with banana and pineapple. A few months ago I bought a few pineapples and cut them into chunks and froze them. Today I used a handful of those frozen pineapple chunks, 2 small bananas, 1 large pear, 1 large apple, a chunk of ginger, and 1 Meyer lemon. I added a few cups of water and then blended it all up until smooth, and then stuffed the Vitamix with as many fresh greens as could fit. I used spinach, collards, and parsley. Blend again until smooth. Drink up! My 3-year-old slammed down a whole glass faster than I did. Oh, hydration, it's a wonderful thing!
While the babies were taking their morning nap, I managed to start a pot of garbanzo beans, make a pot of vegetable and leek soup stock, and make lettuce wraps for lunch. My 3-year-old daughter, Grace, helped me by skimming the foam off of the boiling garbanzo beans. The white, frothy foam that rises to the top of a pot of cooking beans contains the indigestible starches that can cause your belly to get upset. Soaking your beans overnight, skimming the foam off of the top, and cooking with the seaweed, kombu, all help to make beans more digestible.
When I cook beans, I cook beans! That is to say, I don't just cook a small pot. I cook as much as can fit into my 8-quart stockpot. It is much easier to cook a large pot of beans and then freeze them in 2 or 3-cup containers for future use. In fact, the adzuki beans I used for the lettuce wraps today were in the freezer. All I needed to do was run the jar under hot water and place them into a pot to reheat. Easy!
The garbanzo beans I cooked today will be used for hummus tomorrow, some will be frozen, and some were used in the Fall Vegetable Stew I made for dinner tonight, which I served over cooked quinoa with a green salad on the side. A warming autumn meal!
Lunch today: Lettuce wraps, or shall I say lettuce tacos? The romaine lettuce I used was a little too small to be used as a "wrap" so it was a taco. I am often not in the mood for something heavy at lunchtime; I need something light and energizing to keep me going through the afternoon.
This fall we took a group of 19 people through the Elimination Diet with weekly cooking classes and meetings. During the first phase of the diet a friend of ours, who was doing the program, approached me and asked me to create recipes she could eat with sauces. She said, "just give me sauces and I can eat anything." So I created this nourishing, elimination diet-friendly sauce!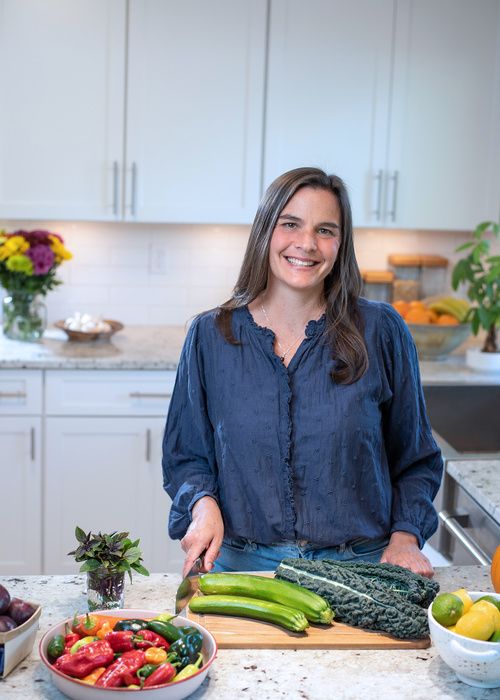 About the Author
Alissa Segersten holds a Bachelor's of Science in Nutrition from Bastyr University and a Master's of Science in Human Nutrition and Functional Medicine from the University of Western States. She is a Functional Nutritionist, the mother of five children, a whole foods cooking instructor, professional recipe developer, and cookbook author. She is passionate about helping others find a diet that will truly nourish them. Alissa is the author of two very popular gluten-free, whole foods cookbooks and guidebooks:
The Whole Life Nutrition Cookbook
and
Nourishing Meals
. She is also the co-author of
The Elimination Diet book
.
Nourishing Meals Newsletter
Email updates.