Gluten-Free Chocolate Brownie Cupcakes with Chocolate Ganache Frosting
Ali Segersten
Apr 09, 2009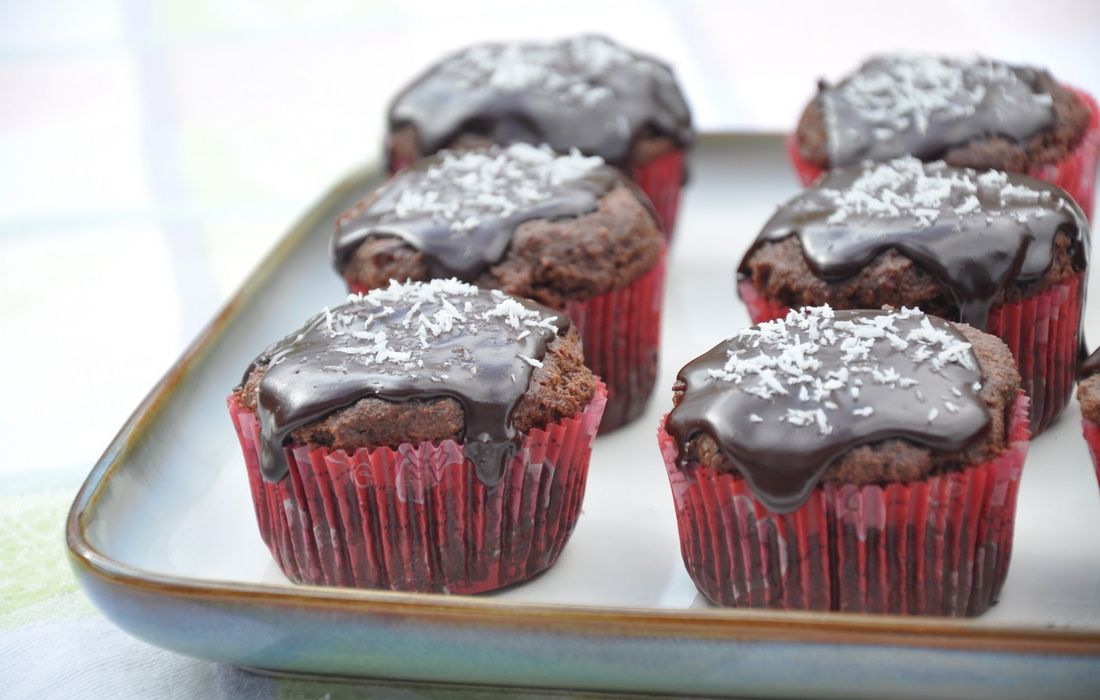 You are in for a real treat today! The other night I had an early morning dream of these cupcakes with the recipe clearly spelled out for me. I was in sort of a lucid dream-like state and knew I needed to write it down. But alas, I have been exhausted caring for my children who have the chicken pox (and Tom who apparently did not have them as a child). So I fell back asleep with them playing on the bed. The next time I awoke I had the recipe in the forefront of my now awake mind. I asked my seven year old, Lily, to run and get me a pen and paper. I quickly wrote it down before it disappeared into my daily routine.
I don't know if it was because I was reading Shirley's GFE blog the other night and looking at her delectable chocolate cake or what - but this type of recipe is not the norm for me. I have never made anything completely from almond flour and vegan nonetheless!
But here it was, so I thought I should at least try it out. Since the only almond flour I had was Bob's Red Mill (a rather coarse blanched almond flour) this is what I used. The result was very tasty and brownie-like but too chunky. I knew there were finer ground almond flours out there, so I googled it. Lucy's Kitchen Shop popped up. I had heard of Lucy before because she is local and has written a Specific Carbohydrate Diet cookbook that was displayed next to our cookbook at our local Co-op when it first came out.
Naturally, I called her up to see how soon I could get some of this very finely ground flour. She was lovely to speak with and I paid over the phone and stopped by her house a few hours later to pick it up!
Today I tried them with my new flour and they are oh so delicious! Simple ingredients but the end result is rich and delicious with a full-bodied chocolate flavor. This cupcake is not for the faint at heart! I had planned on posting my Lemon Poppy Seed Tea Bread for Easter but since this recipe came to me I thought I would share this one.
Now, if you are willing, I would love to know what interests you the most as far as gluten-free baking goes. Vegan? Sugar-Free? Grain-Free? Nut-Free? Everything-Free? Just Gluten-Free? Your feedback will help me with the next book (hint, hint) I have been working on. I would love to hear from you! There is a "Comment" section you can click on at the bottom of each post where you can leave a little something for me to read. You can also email me but your note may get lost in the sea of emails I receive. (If I have not responded to an email you sent, I am very sorry, just busy, please send it again!)