Bean and Rice Breakfast Bowls
Ali Segersten
Mar 16, 2009
17 comments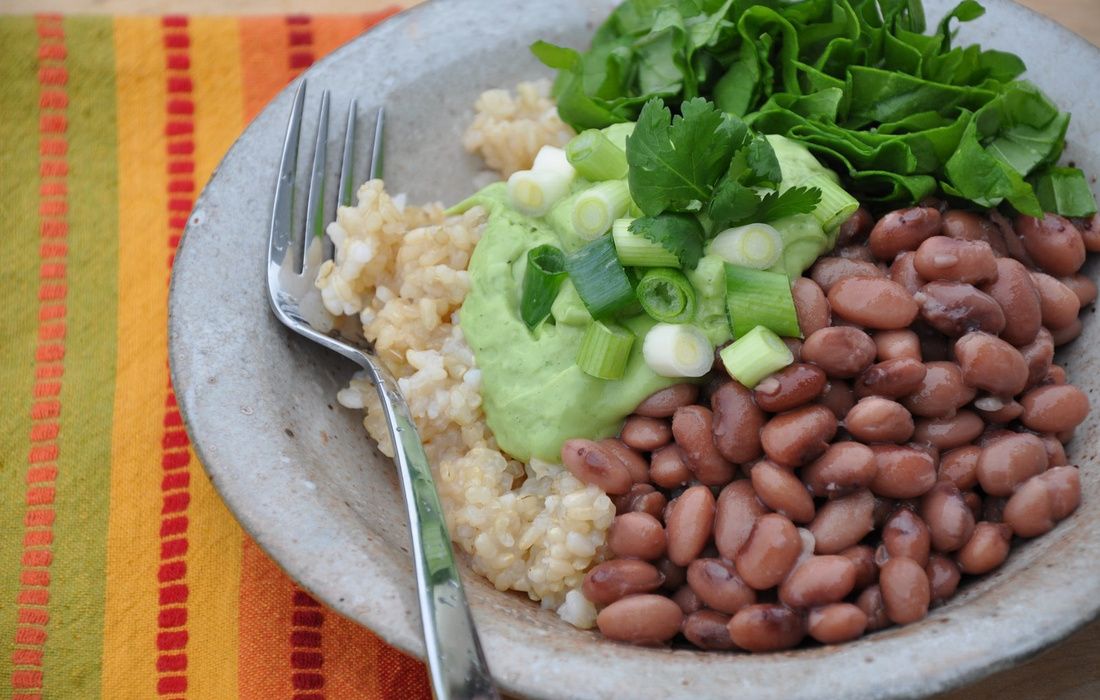 I have had numerous requests for more breakfast ideas that don't involve eggs or soy, and of course without gluten or dairy. Here is a tremendously simple idea for you to take into your kitchen.
Beans and rice. With a Spicy Avocado Sauce recipe.
The idea isn't a new one. Cultures all over the world consume these two staple foods for most meals of the day.
Here in the United States these foods go almost unknown in most households. So now, I invite you to try them out for breakfast. Notice how you feel for the remainder of the day. For Tom and I, we feel energized and satisfied. I am not really all that hungry during for the remainder of the day when I start out with this meal.
Why are beans and rice so beneficial for breakfast?
In Tom's words: Breakfast is a very important meal. The literal meaning of the word is to break-the-fast of your evening rest. Part of what wakes you up in the morning is the hormone cortisol. Cortisol is increased in a state of hypoglycemia, or low blood sugar. The brain needs sugar to function, the body knows this. Whole grains and beans have the necessary carbohydrates to fuel the brain and calm the cortisol. Because of their high fiber, amino acid, B vitamin, and magnesium content, they supply the necessary carbohydrates in a time-released fashion. This sets up a pattern of a steady blood sugar-to-insulin response for the entire day.
As long as you have your rice and beans pre-cooked, throwing together this meal is a snap! I like to use Sticky Brown Rice that I have made the night before. You can find the recipe here. Any kind of beans can be used. Yesterday Tom cooked a large pot of pink beans which are similar in flavor and texture to pinto beans. Black beans would be good too.

A basic lesson on cooking beans:
1. Buy your beans in bulk from a co-op or health food store. If you let your beans sit for too long in your cupboard or pantry they will have a difficult time cooking and may never cook thoroughly. Tom and I did this once with some black beans we had in the cupboard for too long. I had soaked them overnight and then cooked them the next day but after 2 1/2 hours they still were not cooked, just slightly crunchy in the center. So I composted them and threw the rest of the bag into the garden. Pretty soon we had black bean plants popping up everywhere! That Autumn we enjoyed our first crop of fresh black beans! Lily was 2 years old at the time and had so much fun shelling the beans!
2. Sort though the beans and pick out any rocks or shriveled, discolored beans. Place them into a bowl, rinse them and fill the bowl with water. Let them soak for at least 8 hours, or up to 24 hours. If you wish to sprout your beans before cooking then drain off the water (after soaking for 8-24 hours) and cover with a damp cloth, rinse and drain every few hours until you see a very tiny sprout form on the beans. Then they are ready to cook.
3. Drain off the soaking water and rinse well.
4. Place the beans into a large pot and fill with fresh water. Add a 3-inch strip of kombu seaweed. This will help to break down some of the indigestible sugars to make eating beans more enjoyable.
5. Simmer until the beans are cooked through (timing will depend on what variety of bean you are cooking, see the bean cooking chart in my book, The Whole Life Nutrition Cookbook). You can take a few beans out of the pot every once in a while and taste them, if they are soft and mash easily then they are done.
6. Once the beans have cooled a bit, I place them into containers for freezing. Make sure you pour some of that bean cooking liquid over the beans before freezing. They seem to freeze better if suspended in liquid. Store the remainder of your beans in glass containers in the fridge.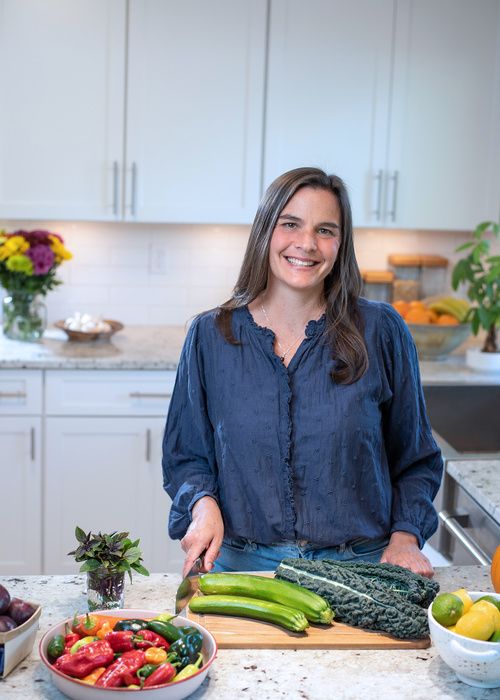 About the Author
Alissa Segersten holds a Bachelor's of Science in Nutrition from Bastyr University and a Master's of Science in Human Nutrition and Functional Medicine from the University of Western States. She is a Functional Nutritionist, the mother of five children, a whole foods cooking instructor, professional recipe developer, and cookbook author. She is passionate about helping others find a diet that will truly nourish them. Alissa is the author of two very popular gluten-free, whole foods cookbooks and guidebooks:
The Whole Life Nutrition Cookbook
and
Nourishing Meals
. She is also the co-author of
The Elimination Diet book
.
Nourishing Meals Newsletter
Email updates.