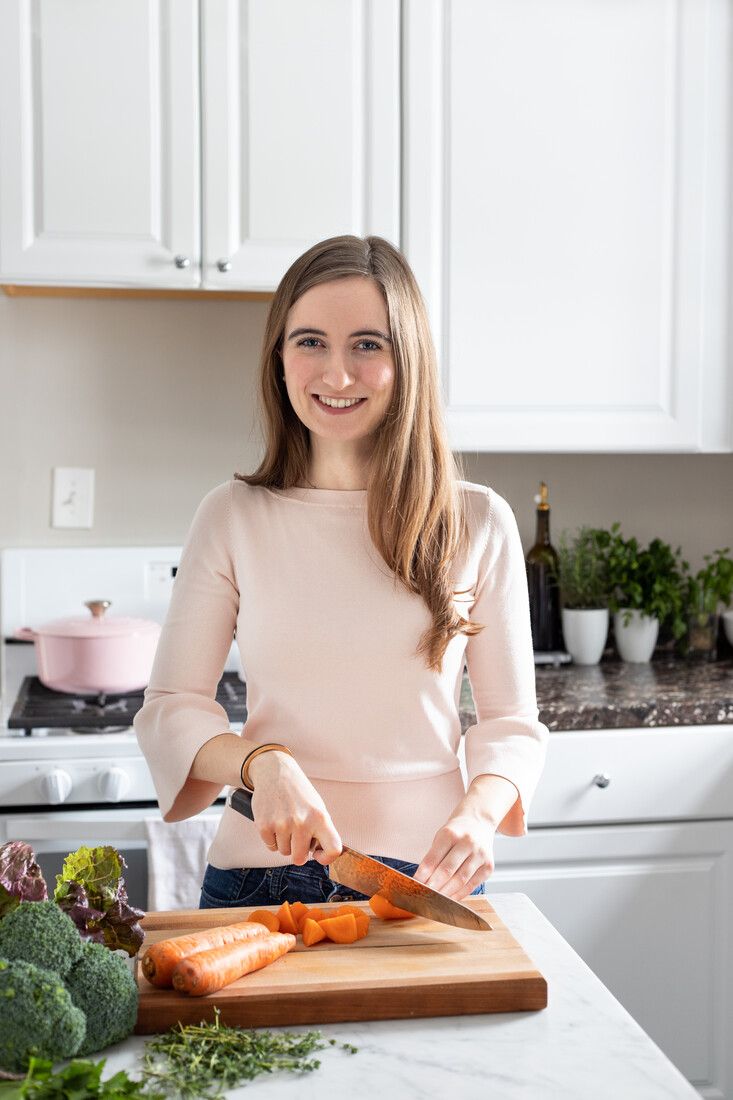 Marisa Dooley
Hi! I'm Marisa.
I am a nutritionist, recipe developer and food photographer with a Bachelor's degree in Nutrition and Culinary Arts from Bastyr University and a Master's degree in Nutrition from the National University of Natural Medicine.
My interest in food developed at a very early age as I was raised on my family's organic farm in WA state where we grew produce and raised animals for dairy and meat. As a toddler, I would help collect the eggs and pick snap peas and lettuce from the garden. One of my first words was 'broccoli' because I loved to eat the bright yellow flowers from the broccoli plant! My parents allowed me to play with my food and experiment with new flavors in the garden and kitchen. When I was 9 years old I remember spending the afternoon climbing our cherry tree and developed quite a craving for cherry pie. I ran to my mom and begged her to make us a pie. She was too busy that day but told me I could make it myself and handed me the recipe. The thought of following a recipe myself had never occurred to me up until that point and I was amazed with myself and so proud when I served my fresh pie at the end of the day. I would say this is the day I truly fell in love with cooking and since then I have been creating my own recipes. In high school, I began to realize what an immense privilege I had to truly know where my food came from and I knew I wanted to share this knowledge with others.
After college I worked in a variety of professional kitchens including the farm-to-table foodservice program at an all girls middle and high school, and assisting a personal chef to prepare SCD compliant meals for a research study out of Seattle Children's Hospital. Throughout my schooling I have had a special interest in maternal and pediatric nutrition and especially picky eaters. I have worked as a nanny throughout most of my adult life and really enjoy introducing new foods and working with children in the kitchen. Now, in addition to working for my wonderful nanny family, I work with food brands and bloggers to do freelance recipe development and food photography.
People often ask me how I make my recipes taste so good and the answer is very simple. I start with the best ingredients I can afford and half of the work is already done for me. You simply can't make excellent food out of low-quality ingredients. I personally do not follow any specific dietary guidelines, but prioritize high-quality whole food and tend to go towards a Mediterranean diet style of eating with a balance of whole grains, legumes, dairy, meat, nuts and seeds, and lots of seasonal fresh fruits and vegetables. I believe that the actual food is only a part of a balanced diet and the people it is shared with is the other big piece that sometimes gets left out. Food brings us together and strong relationships are built over the table. We often celebrate with food, and specific smells and flavors have a deep nostalgic connection for many of us. The simplicity of the family dinner table is becoming less present due to the busy nature of our lives. I hope you find that the recipes on this site inspire you to cook more meals at home and share them with the people you love most!
When I am not in the kitchen or shooting my latest recipe, you might find me shopping at the farmers market, out for happy hour or working on a home renovation project with my husband, working in my herb garden, or hunting down deals for my new favorite cookware and photography props. Notice a theme here? Practically everything I do revolves around food!