Easy Gluten-Free Chicken Stew
Ali Segersten
Mar 19, 2009
14 comments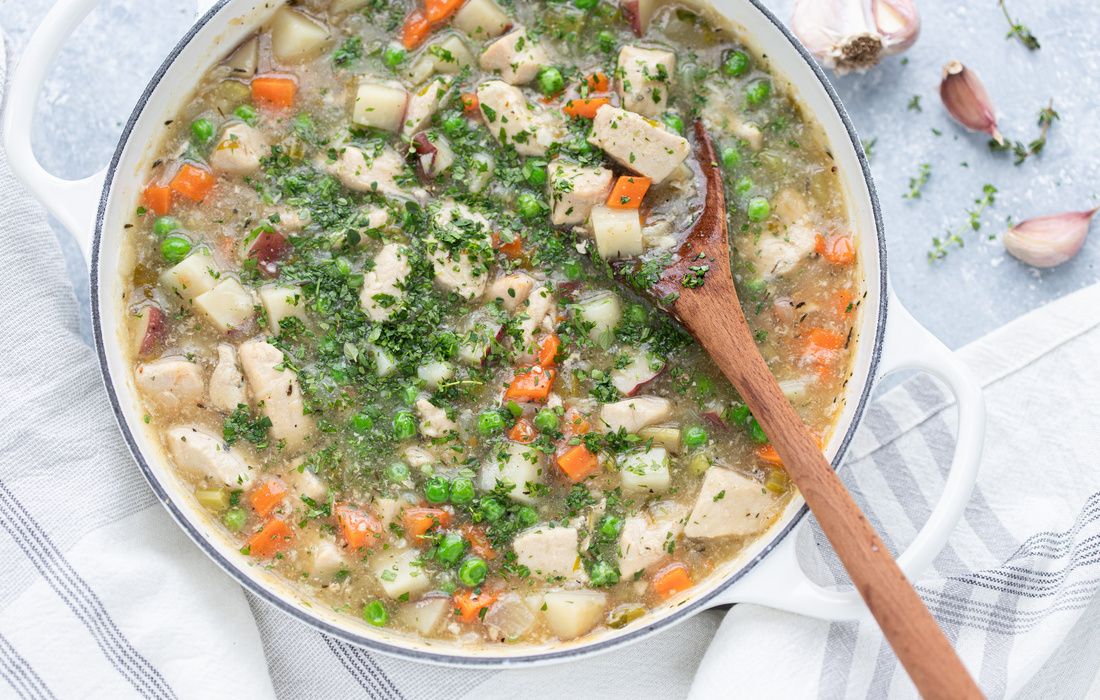 Although life seems to have eased up a bit now that our twin babies will be 15 months old tomorrow, the pace has begun to ramp up. Most days I feel like a sheep dog herding cattle. For example, the other day I was out for a morning walk with the boys while the girls were in school. The boys really enjoy walking for part of it and if were up to Sam, he would walk for miles without stopping. As we neared the duck pond on a wooded trail near our house the boys began to merge onto the trail that leads down to it. I stop the baby jogger and round them up like two footballs under each arm. Back on the trail again, I walk behind them and keep them on track until we are past the pond.
I feel like we are finally beginning to get back into a rhythm. As life changes, we are constantly adjusting to find our center, then it changes again and a new center needs to be attained. I think it took me at least a year since the boys were born to begin to regain my center.
Now, life happens once again. Driving children to and fro. Play dates, outings, family meals....life. Wonderful life!
Yesterday I barely had a chance to sit down let alone think about what I was going to make for dinner. Tom left for Seattle early in the morning and didn't get back until we had just finished dinner. After I dropped the girls off at school in the morning I went to the gym to workout. Feeling good, I decided to try a class I had not done before. Body Combat. OK, the name says it all. I usually do the yoga-type classes and so felt somewhat like a klutz in this one. But hey, I did it.
A sauna, a shower, and an errand later, Grace gets picked up from preschool. Home, lunch, boys nap, I wrap Lily's birthday presents (she turns 7 tomorrow), pick Lily up from school. Home, nurse the boys, sit down with the kids for a little while.
5pm. Time to make dinner. But what and quick? The kids are hungry. Two minutes later I have a plan. Chicken & Vegetable Stew with Biscuits.
My mom used to make Chicken and Dumplings or Chicken Pot Pie quite often as we were growing up. She always cooked from scratch and made balanced meals for us. Not only were her meals balanced but they tasted good! Those flavors still linger with me to this day. This stew is somewhat a reflection of her chicken pot pie filling.
A few days ago I cooked a whole chicken on the stove to make chicken noodle soup. There was plenty of meat already in the soup when I began to pull the breast meat from the bones so I decided to save it for something else. I almost always have carrots and celery in the fridge and potatoes and onions in the pantry. If you have chicken or vegetable stock, a little arrowroot powder, and some salt and herbs on hand you are good to go.
From start to finish the whole meal took me 30 minutes to prepare and cook. We were sitting down and eating dinner by 5:30pm! Now I know most of you work or are busy stay-at-home moms that could appreciate a meal like this. We served the stew with some gluten-free, dairy-free biscuits made with sorghum flour.
The nice thing about adding the cooked chicken at the end is that this meal can also be made vegan (as long as you use Vegetable Stock instead of Chicken Stock). I took some out before adding the chicken. You could easily stir in a little bit of cooked beans if desired.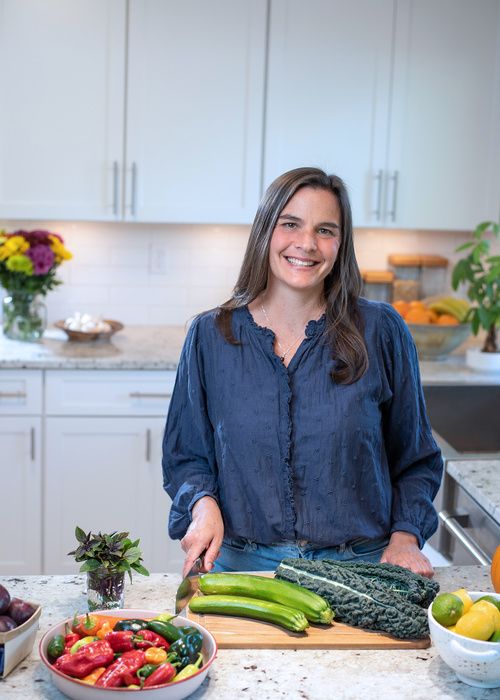 About the Author
Alissa Segersten holds a Bachelor's of Science in Nutrition from Bastyr University and a Master's of Science in Human Nutrition and Functional Medicine from the University of Western States. She is a Functional Nutritionist, the mother of five children, a whole foods cooking instructor, professional recipe developer, and cookbook author. She is passionate about helping others find a diet that will truly nourish them. Alissa is the author of two very popular gluten-free, whole foods cookbooks and guidebooks:
The Whole Life Nutrition Cookbook
and
Nourishing Meals
. She is also the co-author of
The Elimination Diet book
. Alissa is the founder and owner of Nourishing Meals®.
Nourishing Meals Newsletter
Email updates.