Honey-Kissed Peach-Blueberry Muffins
Ali Segersten
Sep 02, 2009
26 comments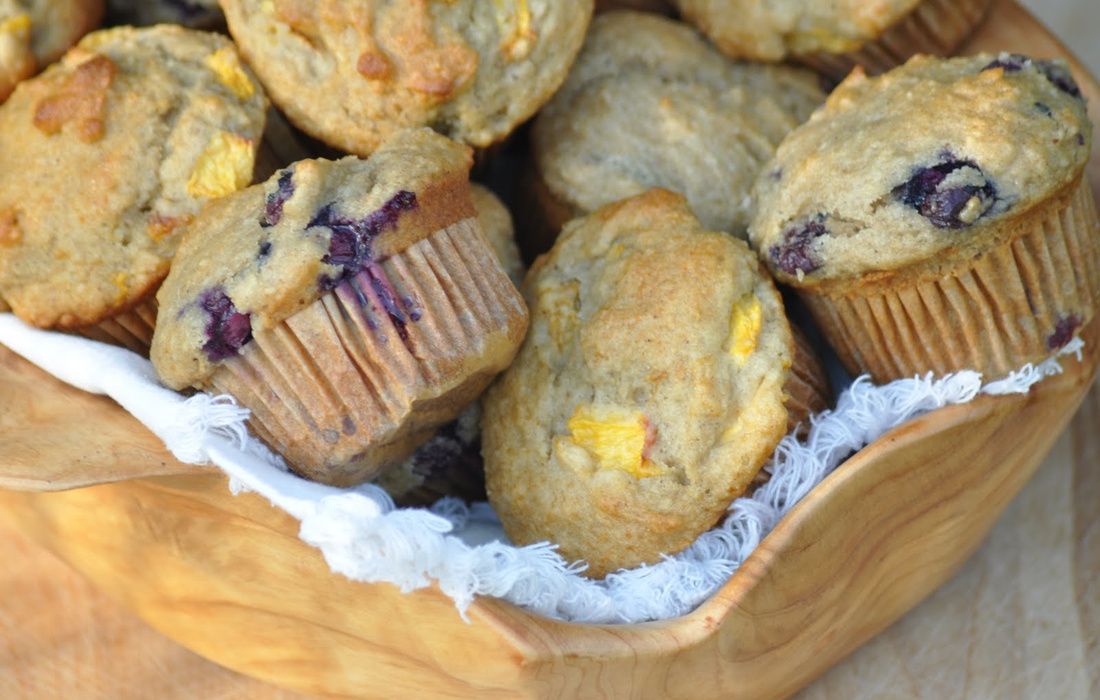 The frost peaches are in and we have surely picked our share. 130 pounds that is! I have spent the weekend pitting, cutting, freezing, and dehydrating these sweet, juicy little morsels of summer nutrition. A way to remember summer, eat local, reduce our carbon footprint? Or just enjoy fresh!
We have also been picking blueberries, blackberries, Italian plums, apples, pears, and red plums. Over this past weekend I stayed up into the wee hours of the morning processing it all and making jam. Spiced peach jam, cherry-peach jam, blueberry-honey jam, and blueberry-apple-lemon jam. You can make a sugar-free jam by using Pomona's pectin. So far I have used grape juice concentrate and honey to sweeten my jams. I also made one with sugar just to see what the difference was in taste and texture.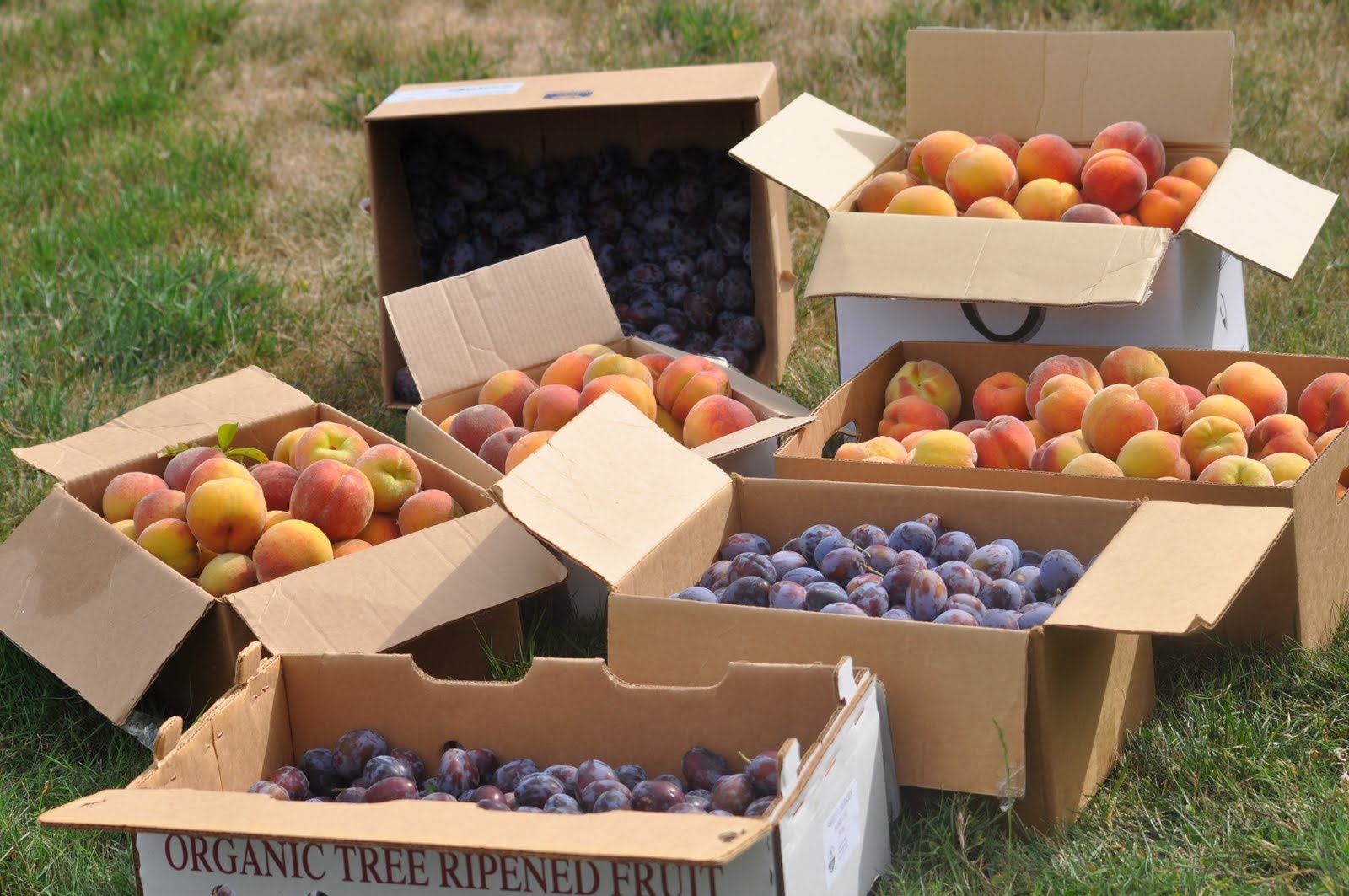 Some Helpful Tips for Picking Fruit:
Every year our family picks pounds and pounds of fruit. The trick is having the time to deal with it all once it ripens. It may be work now, but in the dead of winter you will be relaxing and enjoying a freshly baked scone spread with your very own homemade jam.
Don't be shy, go up to your neighbor's house and ask to pick fruit. Most folks are happy to have the help, otherwise most of it will end up on the ground rotting. Other places to look are vacant lots, houses for sale or for rent, and houses where college students live. There is plenty of fruit to go around! Remember to always ask before you pick!
Keep empty boxes in your car just in case you spot a tree needing picking on your travels about town. Small buckets works well for berries.
Make sure you store your fruit in large flat boxes, one or two layers deep, after you pick it. Otherwise the bottom fruit will get crushed and start to rot, possibly spoiling the whole box. I usually remove the very ripe fruit to eat right away and then transfer the fruit into additional boxes. You can pick up empty fruit boxes from your local health food store if need be.
It helps to have an extra refrigerator and/or freezer in your garage. I put a bunch of fruit in the fridge before it ripens to be able to enjoy for weeks. Just take a little out at a time and let it ripen on your kitchen counter.
For peaches, I simply cut them in half, remove the pit, and freeze them in layers in large containers. They are great in green smoothies throughout the year. To dehydrate, I peel, pit, and cut into thick slices. After they are done I store them in large glass jars in the pantry.
For blueberries, I pour some into a large Pyrex bowl and fill it with water. All of the stems and leaves, and other gunk will float to the top. You can just pour off this stuff and give them another rinse. Shake off the water and place into large containers to freeze.
For blackberries, we just freeze them as they are, no rinsing.
For Italian Plums, I cut them in half, pit them, and freeze them in large containers. For dehydrating I cut them in half or quarters, pit them, and dehydrate. Store in glass jars in your pantry when done.
For apples, just make applesauce.....or apple-plum sauce!
We like to use the pears in green smoothies and also freeze them. Frozen, they make a great addition to your smoothies when out of season.
Giveaway little boxes of fruit to your friends! This is always fun, especially when you have 4 or more different types of fruit to add to the box.
Do you have any ways to preserve the harvest? Traditions? Recipes? I'd love to hear. 
But what about vegetables you say? Well, the cabbage in our garden is ready to be harvested and soon I will be making raw sauerkraut. Over the weekend I made a big batch of raw, lacto-fermented pickles.
The muffins, please the recipe?
The other day as I was browsing Melissa's Gluten Free for Good blog, I noticed a honey sweetened peach muffin that beckoned me to make it. Since I don't use mixes I thought I better come up with my own recipe. Three tries later I offer you a recipe that your gluten-eating friends will enjoy too! You see, since I had so many muffins, I gave them to the neighbors to taste-test. The verdict was in: all folks loved them, gluten-free or not!
Since Melissa's recipe used eggs I thought I would try it out that way too. If you need an egg-free muffin recipe you can use my vegan Rhubarb Muffin recipe and simply replace the rhubarb for peaches or blueberries (or any other summer fruit for that matter...like blackberries).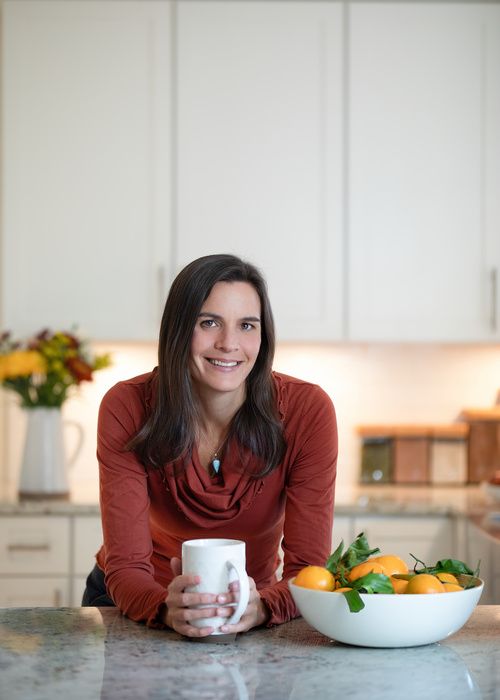 About the Author
Alissa Segersten holds a Bachelor's of Science in Nutrition from Bastyr University and a Master's of Science in Human Nutrition and Functional Medicine from the University of Western States. She is a Functional Nutritionist, the mother of five children, a whole foods cooking instructor, professional recipe developer, and cookbook author. She is passionate about helping others find a diet that will truly nourish them. Alissa is the author of two very popular gluten-free, whole foods cookbooks and guidebooks:
The Whole Life Nutrition Cookbook
and
Nourishing Meals
. She is also the co-author of
The Elimination Diet book
. Alissa is the founder and owner of Nourishing Meals®.
Nourishing Meals Newsletter
Email updates.