DASH Diet
Hypertension, or high blood pressure, can put you at risk for having a stroke or heart disease if it is elevated for an extended period of time. Normal blood pressure should be below 120/80mmHG. Blood pressure is considered elevated if the systolic reading is between 120 and 129mmHG. An individual is considered to have hypertension if blood pressure is above 130/80mmHG. Currently, nearly half of the population in the United States is considered to have hypertension! Are there steps you can take to minimize the risk in developing hypertension or help reduce blood pressure if you do develop this disease? Yes! The DASH diet is a specific diet that has been developed to assist individuals in lowering blood pressure. 
DASH Diet Safe with Modifications
Here are some recipes you can modify.
What is the DASH Diet?
The DASH diet—Dietary Approaches to Stop Hypertension—was designed as a first line therapy to reduce hypertension. It has been proven to lower blood pressure and LDL cholesterol and improve insulin sensitivity. The DASH diet may also assist in balancing blood sugar and reducing triglycerides. The DASH diet is rich in key nutrients required to maintain healthy blood pressure—potassium, calcium, magnesium, fiber, and plant phytonutrients.
The DASH diet is focused on whole grains, vegetables, fruits, low-fat dairy products, fish and seafood, poultry, legumes, nuts, and seeds. It is low in fat, oils, meat, sweets, and sodium. The DASH diet is similar to the Mediterranean diet, but with stricter guidelines. 
Note on sodium intake: It is important to be very mindful of sodium intake. No more than 1 teaspoon of salt per day (2400mg) is recommended. This could break down to a quarter teaspoon of salt at both breakfast and lunch, and a half teaspoon of salt at dinner. It is important to calculate the amount of salt you are adding to recipes and reduce it if necessary, based on serving size. Using a Homemade Herbed Sea Salt or store-bought alternative like Herbamare, in savory recipes can help reduce sodium intake even further. Sodium can hide in many places, most notably in packaged and processed foods. Even canned beans and whole grain bread can be high in sodium! Be sure to read labels and buy low-sodium alternatives if you are purchasing a packaged food. If possible, work towards as many meals as possible that are based on whole food ingredients. 
Key Aspects of the DASH Diet:
High intake of fresh fruits and vegetables
High intake of whole grains
High in fiber
Lower in fat (choose lean meats always)
Eliminates cured and processed meats (no bacon, ham, sausages)
High intake of low-fat dairy products
Reduced portion sizes
Reduced sodium
High in potassium
Based on whole foods
Elimination of processed foods
Proper balance of nutrients for hypertension
Who is the DASH Diet for?
The DASH diet is beneficial for anyone with elevated blood pressure or risk factors associated with hypertension. Please talk with your doctor about using this diet as part of your treatment. 
The DASH Diet is beneficial for reducing your risk of:
High blood pressure or hypertension 
High LDL cholesterol 
Cardiovascular disease
Type 2 diabetes
Kidney disease
Gout
What can I eat on a DASH Diet?
In order to implement a DASH diet and start seeing the benefits, first begin by removing processed foods from your pantry, fridge, and freezer. These types of foods are typically very high in sodium and low in potassium. On the DASH diet you'll be focusing on foods high in potassium and low in sodium, as well as foods high in fiber and lower in fat. This starts with a whole foods diet. Low-fat dairy products make a great snack, especially when combined with fruit. Try this simple recipe for Cottage Cheese with Pears and Almonds for breakfast, lunch, or an afternoon snack. Green smoothies are an easy way to significantly increase your daily supply of both potassium and fiber! Try this Strawberry-Kale-Mint Smoothie for breakfast or an energizing afternoon snack! This Creamy Kale Smoothie uses almond milk, pears, and kale for a nutrient-dense anti-inflammatory snack! For lunch, try meal prepping a few whole grain and legume salads on the weekend to bring to work with you during the week, such as this Southwestern Black Bean and Brown Rice salad or this Rice and Garbanzo Bean Salad with Kale. This Wild Rice and Chicken Salad is another great lunch option for the DASH Diet! For dinner, start simple with a recipe for Basic Baked Chicken Breasts, and serve them with Baked Potatoes or Baked Sweet Potatoes and Steamed Green Beans.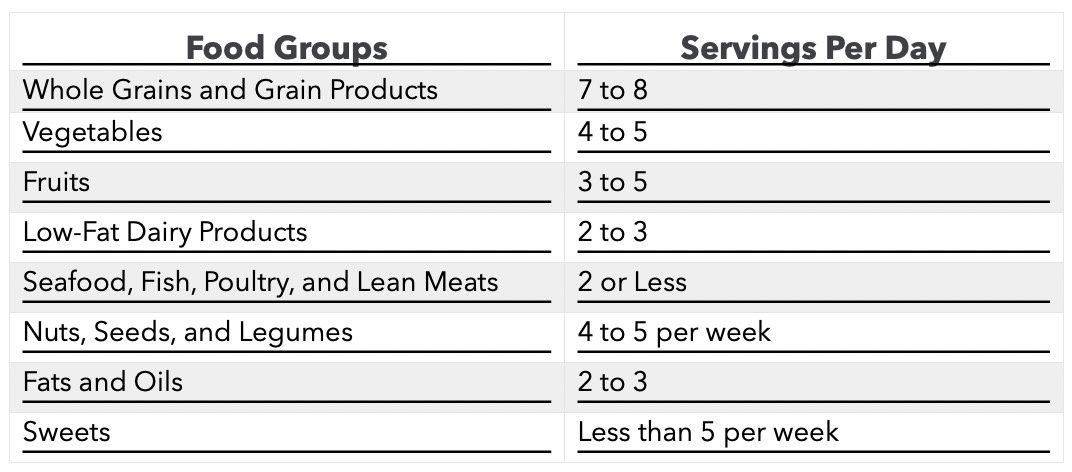 How do I start a DASH Diet?
Sign up and become a member on this site. 
When you set up your user profile or use the search feature, choose DASH Diet. Then add any other food restrictions you may have. If you are lactose-intolerant, you can still enjoy some recipes that use dairy if you choose a specific lactose-free dairy product. 
Then search for recipes to add for breakfast, lunch, and dinner and add them to your meal plan. 
When you are hungry for a snack, instead of reaching for a bag of potato chips, choose fresh fruits and vegetables. Celery sticks, apples, carrots, berries, along with a small handful of raw nuts or seeds make a great snack! 
Join our Nourishing Meals Community Facebook Group to get notified with new recipes and more! Everyone is welcome. 
| Plan | Length | Actions |
| --- | --- | --- |
| Nourishing Mother's Day Brunch | 1 day | Please login to view and schedule plans |
| DASH Diet Holiday Recipes | 0 days | Please login to view and schedule plans |
| 5-Day Mediterranean Diet Meal Plan | 5 days | Please login to view and schedule plans |
| Heart-Healthy Dinners | 12 days | Please login to view and schedule plans |
| DASH Diet Vegetarian Main Dishes | 0 days | Please login to view and schedule plans |
| DASH Diet 3-Day Meal Plan | 3 days | Please login to view and schedule plans |